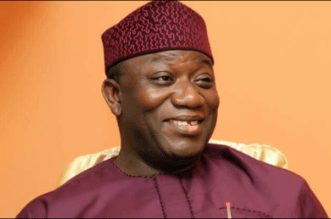 Fayemi launches massive cotton production zone
By Samuel Ogunsona
The Governor of Ekiti State, Dr Kayode Fayemi today launched a campaign for the mass production of cotton in the largely agrarian state. The state Governor, Dr Kayode Fayemi who was represented at the event by Chief Bode Folorunso said the government will continue to support the cotton production in Ekiti State. Three investors also came from the United States to participate in the launching which drew about 400 locals and officials.
Officials from the United States who attended the programme said Ekiti will soon lead Nigeria as the highest cotton producing state.
The latest event took place in Itapaji Ekiti, Ekiti North local government area where over 300 cotton farmers have been engaged in farming. Folorunsho said the Ekiti State Government has instillied a new spirit of cotton production in the State. Itapaji is located in Ekiti North local Government area and by far one of the most historic cities in Ekiti State.
Sources told Irohinoodua that the production of cotton has opened up new frontiers in the state's drive for diversification under the Dr Kayode Fayemi administration. Our correspondent who attended the event saw hundreds of cotton farmers that came from across the country to support the local production of the essential material for textile.