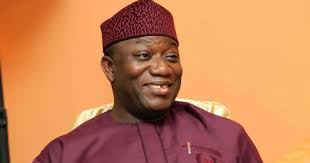 Fayemi acquires 10,000 acres for O'oduaagric  investment, ranching
By Samuel Ogunsona
The Government of Ekiti State led by Dr Kayode Fayemi has acquired another 10,000 acres in the state devoted to agriculture and animal husbandry.
The farm settlement will be located at Oke-Ako, Itapaji and Iyemero area, all located in Ekamefa, Ikole-Local Government area.
Dr Fayemi said the recent acquisition is in pursuit of his mission to ensure that Ekiti State becomes the leading agro-belt of the South West
The agro enterprise will be managed by O'odua Investment Company Ltd.
The State Governor has already released the Certificate of Occupancy (C of O) to O'odu'a Investment Company Ltd and Oke-Ako Ekiti Farms Ltd to manage and operate the 10,000 hectares of farmland in the area.
The enterprise is expected to engage now fewer than 20,000 direct and indirect workers and will boost the state's Internally Generated Revenue, (IGR).
Oke-Ako first came into limelight in the 1980s when the then Unity Party of Nigeria, (UPN) led by Chief Obafemi Awolowo established a ranch in the area which saw the breeding of special cow species imported from Brazil.
The enterprise collapsed following military intervention in politics which began after the putsh of December 31, 1983.
The state government is also supporting the firms with land clearing activity to sustain continued investments and improve agribusinesses in the area.
This is coming on the heels of Fayemi's revival of the Ikun Diary Farm which had been neglected for more than 37 years. The Ikun Diary Farm is spread across 1000 hectars.Milk production began in the farm few months ago