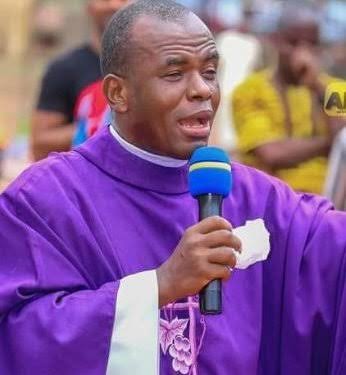 Father Mbaka is missing- Ohanaeze Ndigbo Youths
By Alloy Ejike, Onitsha
Fiery critic, Father Ejike Mbaka is missing, the Ohanaeze Ndigbo Youth Council Worldwide, (OYC), said on Wednesday
The group in a statement made available to Irohinoodua said the clergy man has not been sighted since Tuesday.
'We are worried. No one has been able to see him, not his relations, brothers and sisters" Micheal Anaba an official of the Catholic Church told Irohinoodua on Wednesday.
Mbaka is of the Adoration Ministry, Enugu.
Ohanaeze Youth Council said Mbaka cannot be found
The President-General of OYC, Mazi Okwu Nnabuike, he said Mbaka has not been seen since Tuesday. He said all efforts to locate him have failed.
"We have it on good authority that his aides have neither seen nor heard from him since Tuesday.
"Calls put to his mobile line have also remained unanswered; this has now prompted us to issue this alarm as we would not take it lightly should anything untoward happen to him.
"We are giving the Federal Government 48 hours to produce the priest, else they should be ready to face Igbo youths. They were dining and wining with him all along and now that he told the truth, they are no longer comfortable with him.
"Let nothing happen to Rev. Fr. Ejike Mbaka. It will not be in anybody's interest," the group warned.
"Today is the Wednesday programme, 'E no dey again', if he don't officiate, it will then be clear that something is wrong," one of them said.
A message sent across to youths on Wednesday morning urged youths in Enugu to attend a gathering scheduled for today.
The message stated "Please if you know you stand for justice and you do not want the lone voice that speaks for the poor in this country to be silenced, gather at Adoration ground let's go for a protest at the Bishops court.
"Fr. Mbaka is nowhere to be found. He went yesterday to answer the Bishop's call and up till now, he's not taking his calls. Let's gather! SSG."
A police official in Enugu who does not wish to be named said Mbaka could not have been missing.
"We dont have any reported case of a missing person not to talk of Mbaka. We are not aware of anything like that" the official said.
Another source in the Catholic Church in Enugu told Irohinoodua that it is unlikely Mbaka can be missing.
"We are looking for him. I dont think there is cause for alarm for now. If he was arrested, somehow those who did will come forward to speak out. If its the state agents, we will get to know soon"