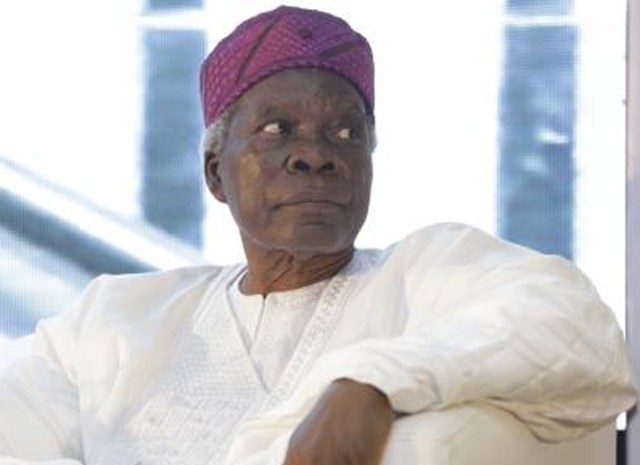 Exclusive: Yoruba leader, Prof Akintoye relocates from Nigeria after constant threats to life
By Abeeb Olukunle
Most outstanding Yoruba self-determination leader, Prof Stephen 'Banji Akintoye may have temporarily relocated from Nigeria following constant threats to his life and family. Sources hinted Irohinoodua on Friday that for the past two months, Prof Akintoye has not been in the country purely for security reasons.
Our correspondent was informed that while in Nigeria, Prof Akintoye received constant threats to his life. A source said his residence in Magodo, Lagos was attacked by strange men on more than one occasion. Sources said there have been physical attacks on at least one of Prof Akintoye's come, Ademola whose businesses were believed to have been set on fire by unknown persons.
This, among other reasons may have compelled the Professor of History and former Unity Party of Nigeria, (UPN) Senator to temporarily relocate from Nigeria.Akintoye is the most popular Yoruba figure in the self determination movement. Sources said given his profile in the academic community across the world, envoys of some Western nations had advised that Prof Akintoye's life was not save in Nigeria. 'We are concerned about Prof Akintoye's safety. He has been advised to relocate from Nigeria. Many countries in Europe and America will be glad to host him and many of this supporters. We are monitoring developments in Nigeria with keen interests, a diplomatic of a Western country who does not wish to be named told Irohinoodua.
One source said armed suspicious people invaded his private residence in the Magodo area of Lagos which led to the iconic Professor's relocation from Lagos to the Yoruba hinterland where he has was protected by private individuals and the host community. After the third attempt on his life, his aides, some Yoruba leaders and at least two Western Diplomats advised him to leave Nigeria, a competent source said.
Organising Secretary, Ilana Omo Oodua and one of Prof Akintoye's trusted ally, Mr Adekunle Adesokan confirmed to Irohinoodua that the Yoruba leader faced threats but he said he could not confirm that Akintoye had left the country. Adesokan who was declared wanted along with current Aare Ona Kakanfo, Gani Adams in the height of Oodua Peoples Congress, (OPC) agitation for Oodua Republic  praised Akintoye's courage saying no amount of threat could deter him. Adesokan told Irohinoodua "There was no physical attack on Prof Akintoye, though there were moves suspect to be the state. Powerful people whose names cannot be mentioned sent agents to Prof Akintoye telling him to stop the campaign for Yoruba Nation. These messages came in the form of warnings that he should desist from calling for O'odua Republic."
On the relocation of Prof Akintoye from Nigeria, Adesokan said "Baba is in town" adding that recently, he does not put on his phone for too long. Speaking to Irohinoodua, Spokesperson for Ilana Omo O'odua, Mr Maxwell Adeleye confirmed threats to Prof Akintoye's life. He however denied that Prof Akintoye has relocated from Nigeria.
Though his aides denied his relocation, multiple sources told Irohinoodua that the former Head of History Department at the Obafemi Awolowo University and close confidant of late Chief Obafemi Awolowo is no longer in Nigeria due to persistent threats to his life and that of his family and may have relocated out of Africa.
Prof Akintoye is a devoted advocate of peaceful resistance. His vision gave birth to Yoruba World Congress, (YWC) which brought the Yoruba agitation for self determination into global reckoning. At 85, Prof Akintoye is seen by millions of Yoruba people as their leader given his dogged spirit, his courage, selflessness and bare-chest outspokenness which has redefined the once hidden agitation for Yoruba self determination. In 2020, he, for the first time, took the Yoruba Nation to the Unrepresented Nations and Peoples Organisation, (UNPO) propelling a global excitement among locals and Yoruba professionals backed by a reverberating valley echo of agrarian Yoruba population in what has now turned into a momentum.
Reliable sources told Irohinoodua that two attempts on his life last year were overwhelming, while the third and last attempt to assassinate him took place early this year.
The source said the armed the invaders scaled the fence of his house and made violent attempts to break into the fortified iron security cordon before neighbors raised alarm that drew the attention of security guards at Magodo Estate where he once resided.
'There are threats against Prof Akintoye. They would have blamed it on armed robbers. The threats to Prof Akintoye's life is real so also is the threat to the lives of members of Ilana Omo Oodua and other groups campaigning for Yoruba Nation", Segun Olubi, a volunteer of the group in Lagos told Irohinoodua.