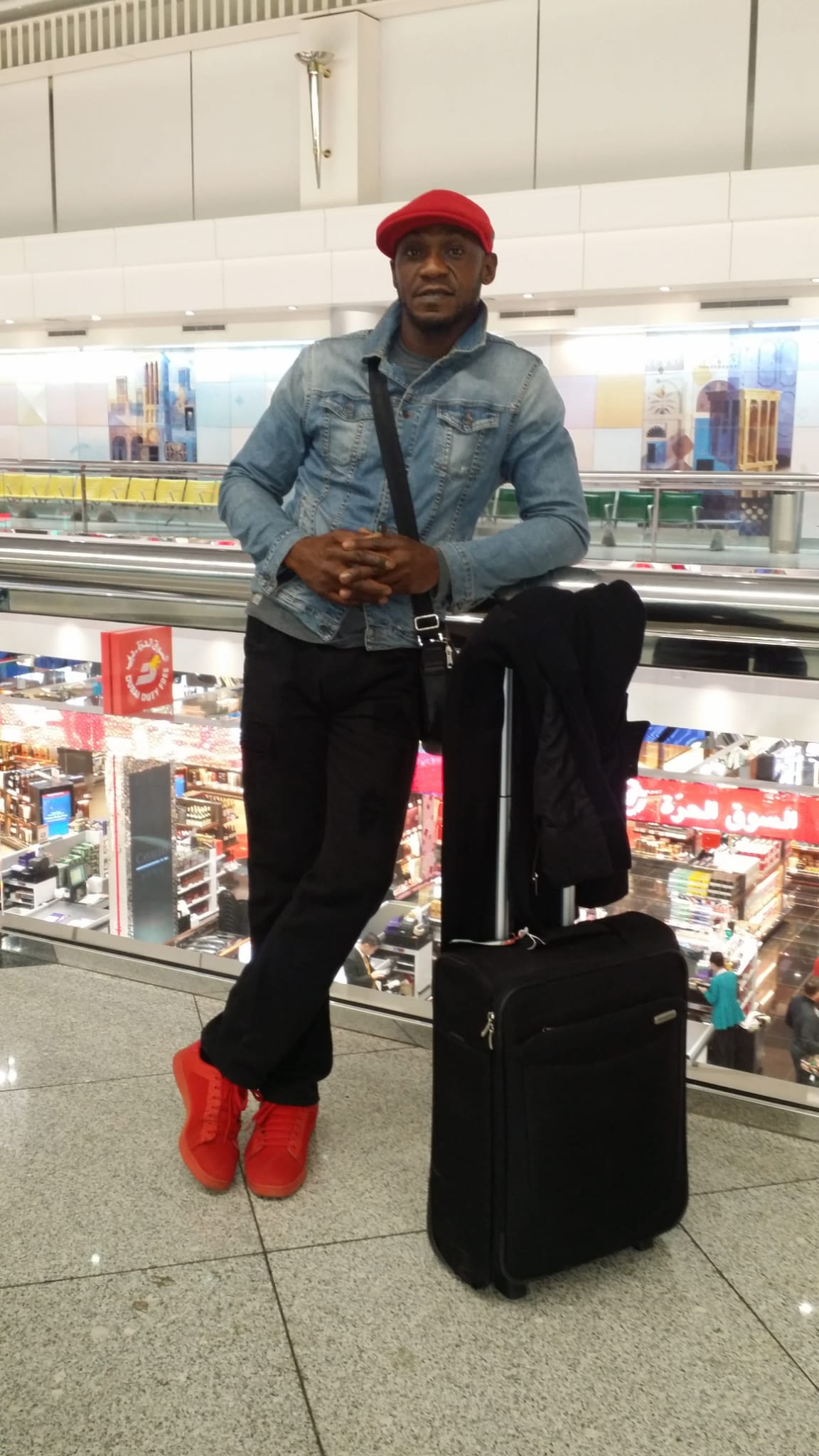 Exclusive Interview with Nigerian Activist in Norway
Highlights: Norway is one of the richest countries in the world but politicians have no escort.
The Prime Minister takes public plane.
Politics is part time
Norwegian billionaires have no private jets
Police in Norway dont carry guns
He speaks on basic things Nigeria must learn from Europe in order to avoid war
Mike Jato left Nigeria for Norway in the wake of June 12 crisis. A member of the Committee for the Defense of Human Rights, (CDHR) and Campaign for Democracy, (CD) that stood against the military in the dark days. Jato was one of those who worked underground, arrested, detained, sought by the military to be killed. The military junta placed his name on the hit list. Relocating from Nigeria was the best alternative in later years after surviving the military tyranny but the country had to live with their prowling agents. In this interview, Jato speaks on why Norway remains one of the most advanced countries in the world and why Nigeria remains in the backbench. According to him, Nigeria has a lot to learn from the Nordic country. He had exclusive interview with Irohinoodua's Samuel Ogunsona
Irohinoodua: Can you reflect on how you left Nigeria several years ago
Jato: Yes. I am a Nigerian residence in Norway, I was a former Staff/member of Committee For The Defence of Human rights and Campaign For Democracy. I joined both sister organisation in the Peak of annulment of June 12th election believed to be won by late Chief MKO Abiola who was later killed in detention by the military junta led by Abdul Salam Abubakar. I served in various capacity in CDHR from 1996 before I left Nigeria in later years, leaving the organisation whom I served and gained more experienced about Human rights related issues.
Irohinoodua: Looking back at how you survived the military, how do you feel?
Jato: It was a tough experience to work under military regime with zero tolerance for human rights and the rule of law, though, we weren't guarded then by the constitution but by military decrees, you can imagine to work under such terrible atmosphere where perceived enemies were often targeted by the Abacha deadly strike force headed by Bernabas a.k.a Sgt Roger. During that period, our office was often raided, documents carted away and most of our executive officer's were whisked away to unknown destinations by the defunct State Security Service now DSS.
I could remember vividly my first day at work, I was on an errand to barrister Femi Falana Chambers at Glass House along Obafemi Awolowo way, Ikeja, Lagos. Men of SSS raided his law Chamber and ransacked everywhere, at the end of the day, many files containing sensitive cases like that of late Fela Anikulapo Kuti were seized and Barrister Femi Falana was whisked away and detained at the most deadliest prison in Gussau along with his best friend and brother, the late Chief Gani Fawehinmi. There were many of my colleagues who were all victims.
Irohinoodua: Can you recollect your personal experiences?
Jato: My first deadly encountered was with the men of the deadly Operation Sweep under the watch of former Lagos State military administrator of the person of Brig. Buba Marwa. On this fateful day, I was on an errand to some of the media houses and foreign embassies in Victoria Island, Lagos with sensitive documents. I was flagged down while on motor bike along Adeniyi Jones, Ikeja, Lagos. During the search operation, they found those documents. I was placed under arrest, interrogated under duress. I was tortured. They wanted to get top information from me. I declined to reveal the source of those sensitive documents. They threatened to shoot me if I refused to disclose source of CDHR revenue to them. I was whisked away to their Alausa office before my office came to secured my released after intensive campaign.
During that period, I had experienced many raids at CDHR office, I was detained at Area F Ikeja, Lagos and State CID Panti, Yaba, Lagos. I can say, it was a nightmare to have worked in a deadly society where human rights advocacy was seen as treason.
Irohinoodua: Can you tell us how you eventually left Nigeria?
Jato: Return to democracy did not mean the tyrants were no longer in Nigeria or that murderers have gone to sleep as we can see today. My asylum journey from Nigeria to Europe wasn't easy, but today, I give glory to my creator and those who played a role in my journey. As we all know that asylum journey is never as smooth like obtaining visa with your genuine passport. Most of us do travel with fake documents just to disguise and seek protection in another country. The state agents would deny you the authentic documents. Though, my own case was a little different from others. Under the refugee convention, every victim of war and persecution has the right to protection by any member state whether he or she is in possession of fake documents, the only way one could face prosecution in a member state is if the victim is caught committing crime with such documents, a case could be established against the person.
From my own experience in Norway, I came to Norway with fake documents but failed to disclose the identity of those who helped me down to Norway. I stated this to the police how I came to Norway. My personal declarations were taken down and sent to transit camp where my case was processed before being transferred to another camp. I was called for interview about weeks later. After my interview, I was transferred to my permanent camp in Sandmoen, Trondheim, Norway. I was in that camp for three years waiting for my case to be processed. During this period, I was given the right to work and go to school with the support from Norwegian government. We were two in two bedroom flat well equipped like an hotel including internet, TV cable and furniture. The camp was located within the vicinity of Norwegians, we were all neighbors and there was a tourist camping centre inside where my camp was located.
During that period, we were all enrolled in a language school, the school served as a vocational centre where you can learn whatever you want to be. I learnt a bit about carpentry and Painting work. It was during this process whilst waiting for my asylum case that I met my Norwegian woman whom we had three beautiful kid's together, two girl's and a boy aged 14, 10 and 8years respectively.
Irohinoodua: How will you assess the Norwegian society compared with Nigeria?
Jato: The Norwegian society gives priority to education, health and security. Education is free here up to university level. Without these three, you cannot build a better society. They make sure that child education is a must here from daycare to secondary. University students are given student stipend to buy books and laptop for their school work. In Norway, before your graduation, job is already secured, they make sure they prioritized graduates first before non graduates. Norway as a country is being rated as one of the best in the world with highest GDP. The country is so unique. Politicians are called to account for their stewardship, and politics is a part time job here. Most politicians are paid on part time basis, no official cars, no security nor escort. Politicians do go on public transport and bicycles to work. Nobody is Very Important Persons, (VIP) here and we don't have private jets here. Even the richest Norwegian man doesn't have private jet. Everybody is treated equally irrespective of your status. Rich men here do not invest in car. They build companies to create jobs for the society. This is how they give back to their society. They are wise. They know the best security for their wealth and for the nation is prosperity of the society itself. The Environment is so friendly and conducive. No crime here, and police do not carry guns here except in emergency cases.
Irohinoodua: What is the relationship between the Government and the people?
Jato: As per the government and her citizens, as we all know in Western countries, the people are the government. While those elected/appointed are servants to the people, they can be called to question and give account of their stewardship. Before you are appointed into any position, they must do background check up and determine the competent of the person.
Nobody is above the law, everybody is equal before the law. Children of the rich, middle class and politician all use the same public institutions such as hospital, schools and same public transport. Nobody has escort here, and nobody's vehicle blare their horns except fire service, police and ambulance on emergency cases. Let you me give you a very good example, our immediate past Mayor in the person of Mortensen Hagen, of Vågsøy Commune now Kinn Commune in Sogn and Fjordane county, he's a police officer, whilst he was a Mayor, he was still very active in his police uniform and often on police patrol vehicles. He often interacts with people on the streets and shopping malls to ask questions about his leadership to know if we are satisfied or any area we want them to improve. He had interacted with my humble self and few others whilst he was a mayor. Now, he is fully back to his police work, and he is always on patrols. We live in the same neighbourhood in Måløy, Kinn Commune, Sogn og Fjordane county of Western Norway.
Irohinoodua: So in Norway, politics is public service
Jato: Still on Norway politics. The Prime Minister is just a servant. The sole powers are the Members of the parliaments. The parliament decide the fate of the Prime Minister himself. The Prime Minister doesn't abuse the position because she or he could be impeached. And politics is played here out of public interest not individual nor party interest. All citizens unite when it comes to national issues.Our Prime Minister flies public planes whenever she is going abroad on official trip to save cost. She uses same public hospital and her children attend same public schools like every other person.
Irohinoodua: What practical lessons do you think we should learn in Nigeria?
Jato: My lesson in Norway and advice to Nigeria is that I would say priority should be given to education, health and security. No country can survive without these three aforementioned areas. Graduates with competency should be given priority before the child of a big man when it comes to national cake.
I can use myself as a case study. After I came to Norway, I found other means to make a living due to the opportunities available to us. My Norwegian fiancé and mother of my kid's encouraged me to take a job in her family company which specialises in offshore and marine work. I was given the opportunity and I took the job. I was trained and sent on various training to be compactable with modern equipment and skill. Today, I have a vast experience in maritime and offshore work. Finally, my advice to the Nigeria government is to invest heavily on youth education. They say youths are the future leaders.In Norway, the government here invests heavily on children and youths. That is why they make child education a must. Secondly, our government should reduce cost of governance. Stop all forms of political impunity. Criminalisee wastage, corruption and cyber crimes, stop human rights abuse, allow Nigerians to develop their potentials. Invest in heavily on the industrial sector especially energy. A nation cannot develop her industrial based without energy.