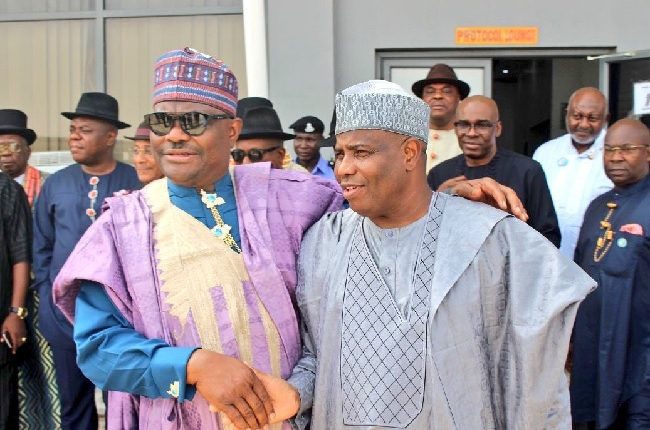 Exclusive-2023: PDP considers Tambuwal, Wike ticket
By Tina Osundu
A powerful bloc in the Peoples Democratic Party, (PDP) in considering fielding the Sokoto State Governor, Aminu Tambuwal as its Presidential candidate, close sources to the party told Irohinoodua.
Tambuwal was the charismatic former Speaker, House of Representatives and is said to enjoy an unusual solidarity among the PDP State Governors spread across the six geo political zone.
The plot is being hatched by prominent PDP leaders in the North, reliable sources hinted.
The Rivers State Governor, Nyeson Wike is being tipped as Tambuwal's running mate. Wike is the outspoken Governor of Rivers State whose stamp of political authority in his domain is not in doubt.
While Tambuwal is of Fulani stock, Wike is Ikwerre, an ethnic group believed to be Igbo cousins.
"Tambuwal is young. He has a superb network across the country. He is from the North West. His popularity is increasing. He is energetic and perhaps one of the few that can challenge President Mohammadu Buhari in the North West. He is also not a stranger to many political interests across the country being a former Speaker of the House of Representative," the source said.
Our correspondent heard that the choice of Wike has the potential of dousing the agitation for Igbo President by the South East apart from appeasing the bottled up grievances of the people of the South South following former President Goodluck Jonathan's defeat in the 2015 Presidential election.
Irohinoodua heard that the only challenge posed to the plot is the aspiration of former Vice President Atiku Abubakar who has become a serial contestant for the Presidential seat.
A PDP Chieftain in Rivers State who does not wish to be named told Irohinoodua that Tambuwal and Wike ticket is "sinking deep" into the consciousness of many people in PDP.
He said Northern leaders across party lines also see the emergence of Tambuwal and Wike as an effective way to sustain the stronghold on power by the North West after Buhari's inevitable exit and also a way to inspire support in the South South and South East.
"Many leaders in the core North hold the view that politics is a game of interests. They think there is nothing wrong if the Northwest retains power in the post Buhari era. With Wike as the Vice President, the position of the President of Nigeria will be nearer to people of the old Eastern Region including Igbo," the source said.
He said if the APC fails to pick a Presidential candidate from the South West, the chances of Wike who has been an advocate of Federalism and has earned support from  a section in the South West will become brighter adding that such a step by the APC may also galvanise support for the PDP in the region.
Our correspondent heard that some party leaders in PDP are already holding strategic meetings with critical stakeholders in the PDP to ensure the emergence of a Tambuwal/Wike ticket.