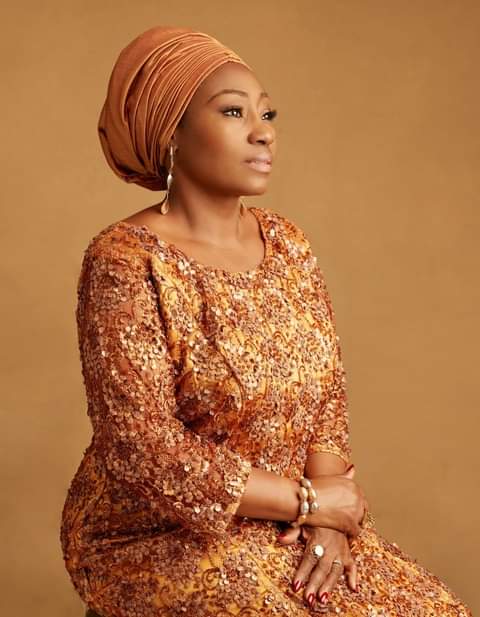 Erelu Fayemi: Angel In Human Form, She Has Done It Again
…. Aare Afe Babalola, Greater Tomorrow Model College, Nigerians, Thank You All
By Gbenga Sodeinde
Like an Angel of God visitation is how it usually looks like whenever the First Lady of Ekiti State, the Mother General, and kindhearted woman with special touch, Erelu Bisi Adeleye-Fayemi visits any family or home, just like it has happened in my own case.
If Erelu Fayemi can just Visit your home or family, your life and lives of others in that home will never remain the same again.
The adage in Yoruba which says: "eniyan laaso eni", translated in English to mean "human beings are like a man's clothing", is very apt, especially as regards to what our amiable first couple in Ekiti, i.e our Chief Executive, Dr. John Kayode Fayemi and his loving wife, Erelu Fayemi, represents in my family's life and in the lives of many other families across Nigeria that have witnessed Erelu's visitation in their family .
Going down memory lane, it is as if God has destined the paths of both governor Fayemi and l to cross so that he could put my life in proper shape and continue to be my family's guardian.
This is because this wonderful couple had played a major role in my wedding ceremony over 13 years ago, besides being the special guest of honuor as first couple then, they had also supported heavily in expenses for the ceremony.
In fact, they participated actively in the christening of our first fruit, by naming her Oluwatamilore, meaning: 'God has given me a gift.'
Over the years and indeed 13 years later, I have come to realize that the name Oluwatamilore, as given by the wonderful and generous Fayemis, is a prophetic one.
It was the same little bundle of joy which the first couple had christened 'Gift of God' for us whose life and sight were saved by this same wonderful first couple recently.
For dear readers who might have missed missed the story; a couple of weeks back, colleagues in the media had flooded the social media with pathetic stories of my multi-talented daughter, 13-year Sodeinde Oluwatamilore Precious' sudden partial blindness, urging well meaning people all over the world to urgently come to her aid as she would need nothing less than N2 million for a surgical treatment to get rid of some gluacoma eating up her eyes.
Doctor had said that she may not see again with both eyes if urgent help didn't come her way.
As if she were her own daughter, compassionate wife of our amiable governor, Erelu Bisi Fayemi rose to the challenge and instructed that my daughter be urgently taken to the Afe Babalola Muilti-purpose Hospital, Ado-Ekiti, for a world class special surgical operation.
When we heard the news, we shed  tears of joy profusely and began to pray that the good Lord who has taken Erelu Fayemi and her loving husband, governor Fayemi to their present lofty, enviable and great height will never let them down nor bring them down but He shall continue to lift them higher, even beyond their dreams in life in Jesus mighty name, amen.
Just yesterday, Decemeber 18, 2020, Doctors at Afe Babalola University Teaching Hospital in Ado Ekiti  broke the good news to us, that our daugther's eyes have been properly treated and she is seeing perfectly and will be discharged. Glory be to God!!!.
At this junction, I will want Nigerians and people of the world, please kindly join me in thanking our dynamic , caring, sensitive, and responsive Ekiti First Lady, Erelu Adeleye Bisi Fayemi, for being our ready help all the time. May God continue to bless her and our amiable Governor Fayemi.
I want to specifically appreciate Baba Aare Afe Babalola (SAN), for his innitiative, on this Africa Best University Teaching Hospital in Ado Ekiti, All Doctors and Staffs of the University Teaching Hospital. They are all professional to core, and very nice and caring people.
Also, I want to appreciate the Proprietor of my daughter's school, Greeter Tomorrow Model College, Ado Ekiti, Mr Michael Ade Owaraye, the Principal,  Teachers and students, for their care, concern, prayers and show of kindness.
I equally appreciate my friends both in Nigeria and abroad who responded to my cry for help in one way or the other and most especially those did not stop praying for me and my child.
Right now I am full of joy, the sorrow of having a brilliant, multi-talented daughter becoming blind which threatened our peace of mind has now disappeared forever.
We shall remain eternally grateful to Erelu Fayemi and her family forever. In seun ra o, eye ayiye, Erelu Bisi Adeleye Fayemi!