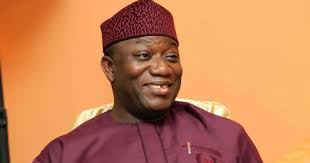 Ekiti announces N1m reward every year to best Teacher
By Babatunde Akilo
On the occasion of the workers' day, the Ekiti State Commissioner for Infrastructure and Public Utilities Hon Engr Bamidele Faparusi has announced the donation of N1m every year for the best teacher in a state noted for its pursuit of knowledge.
The State Governor, Dr Kayode Fayemi has made astonishing contributions to education in the state building model schools, increasing the capacity of hundreds of public schools while providing rare capacity building for teachers and students.
The 1m cash donation will go into rewarding outstanding performance in the the teaching profession
Faparusi said he made the announcement on behalf of his family and friends adding "I wish to announce an annual N1, 000, 000 naira Ekiti Teachers Award for outstanding performance to be disbursed every December starting from December 2021."
In the statement marking the Teachers Day made available to Irohinoodua, Faparusi said the gesture was aimed at strengthen the dignity associated with the teaching profession.
He said in the statement "I am an Engineer because I am a product of your tutelage"
He said historically, the reward of teachers are presumably not on earth but in heaven, hence, their service is a sacrifice for humanity.
"Without teachers we can not have a decent, orderly and progressive society, we may even be worst than the animal kingdom, therefore the quality of eldorado is primarily dependent on the quality of our teachers today," Faparusi said.
He urged the society to acknowledge the sacrificial service of teachers as next to God and accord them the respect they deserve.
"Let me commend His Excellency, Dr Kayode Fayemi CON for doing everything humanly possible to improve the welfare of Ekiti teachers by prompt payments of wages and allowances as well as providing a decent working environment through massive renovation of schools and construction of new model schools", the statement said.
He urged every duty bearer in the education sector including the management of private schools to pay teachers a living and decent wages and always make deliberate effort to put smile on their faces.