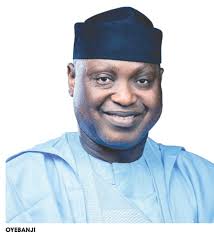 Ekiti 2022: Fasuyi Meets Ethnic, Trade Groups
…Urges Support For Oyebanji
Leaders of ethnic groups in Ido-Ekiti at the weekend trooped out in large numbers pledging their support for the All Progressives Congress, (APC) candidate, Mr Abiodun Oyebanji.
The Director General of BAO Campaign Organisation,  Cyril Fasuyi, has met with the leaders who assured him of their preparedness to mobilise support for the APC.
The gubernatorial election holds on June 18.
Deputy Director of Campaign (Media and Publicity) Mr Wole Olujobi quoted Fasuyi describing members of the groups as part of Ekiti community having spent many years in the state.
He urged them to add their voices to the town's agenda to ensure Oyebanji's success.
Fasuyi spoke with members of ethnic nationality and trade groups resident in Ido-Ekiti,  including members  of the Hausa and Igbo communities, National Union of Road Transport Workers, Road Transport Employeers Association of Nigeria (RTEAN) and Photographers Association, among others, urging them to scale up their support activities for Oyebanji to post significant figures in the results of the election to stand Ido-Ekiti out as the birthplace of the Director General of BAO Campaign Organisation.
He praised them for conducting themselves in decent manner, including the peaceful way they had been conducting themselves so far in both the town and their support for Oyebanji.
Fasuyi stressed that Oyebanji's election is "Ido Agenda" and urged the groups to queue into the scheme to support their host community.
He warned against violence in the June 18 governorship election, saying that it was only in peaceful atmosphere that success could be achieved in choosing the governor that would succeed Governor Kayode Fayemi in the governorship poll.
Stressing that it is noteworthy that the state body of the road workers' unions had adopted Oyebanji for support, Fasuyi urged members to conduct themselves in peaceful manner, pointing out that the era of unleashing violence to win election was gone.
He urged members of the groups to canvass the support of other trade unions to ensure victory for Oyebanji in the election.
Speaking in turns, the groups pledged support for Fasuyi's mobilisation efforts, even as they promised to organise rallies to mobilise other groups and residents, to ensure support for Oyebanji's victory.
Some members, who said they formerly belonged to PDP, said they defected to APC when Fasuyi was elected Senatorial candidate of APC,  pointing out that their support for the director-general was premised on his generosity not only to Ido-Ekiti people, but to other residents in general.
The Igbo traders led by the Vice President-General of the Ohaneze Ndigbo, Ekiti State, Chris Umunakwe; and Secretary General, Obasi Isaac,  said for the first time, they were united in support for APC because they did not at present belong to any party after they were disappointed by PDP, even as they canvassed for integration into the politics of Ekiti State as they were part of Ido community having spent decades in the town.
"We have never come together like this to support a politician since we have been living in this community for decades, but immediately we heard that you were elected as a Senatorial candidate of APC after you were appointed as the Director-General of BAO Campaign Organisation, we consulted widely  among members and resolved to join you to ensure Oyebanji's victory,"  Umunakwe said.
All the groups said they would stage rallies in support of Oyebanji.
Fasuyi thanked the groups and promised personal support to ensure success of their rallies, including assisting them in empowerment drive  for the success of their businesses.