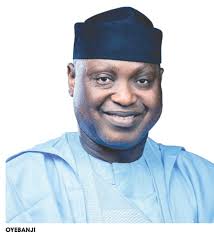 Ekiti 2022: Campaign team launches 350 vote canvassers for Oyebanji
By Samuel Ogunsona
Hundreds of votes converses will go across Ekiti State to mobilise support for All Progressives Congress, (APC) candidate Mr Abiodun Oyebanji
The 350 converses were put together to broaden BAO's growing influence in rural and urban areas of Ekiti State
"In his drive for effective mobilisation to ensure victory for the governorship candidate of the All Progressives  Congress (APC), Biodun Abayomi Oyebanji (BAO), the Director General of BAO Campaign Organisation, Cyril Fasuyi, Wednesday held a mobilisation meeting with canvassers in the two wards in Ido-Ekiti ahead of the June 18 poll" Deputy Director of Media and Publicity for BAO Campaign Mr Wole Olujobi said in a statement made available to Irohinoodua on Wednesday.
He said the meeting with 350 canvassers in attendance is to work out strategy for effective mobilisation to ensure massive turnout of voters during the election.
Noting that it is necessary to strengthen campaign strategy for better results, he said more canvassers needed be added to those already mobilising voters in each of the 33 units in the town and urged the canvassers to penetrate remote locations to preach Oyebanji's gospel to registered voters. He urged voters to keep their cards to enable them vote on election day.
Ward One Chairman, Dele Ajepe, urged APC members to see Oyebanji's election as a special assignment that must not fail, stressing that Fasuyi's assignment as BAO DG had placed enormous responsibility and expectation on Ido-Ekiti and Ido-Osi Local Government in general. He added that the party at the state level would expect nothing from Fasuyi's local government than total victory for APC.
He said voters in the local government should think beyond belonging to APC but a general responsibility for Ido-Ekiti people to produce a Senator in Fasuyi since 1979 after Barrister Olu Olofinlade was elected to the National Assembly.
Fasuyi, who explained that he was speaking in his private capacity and not as BAO DG, demanded total victory from Ido-Ekiti voters, saying that of 27,000 registered voters in the town, he did not expect less than 25, 000 of the votes for APC.
He said: "All I want from you today is to assert that Ido-Ekiti has extricated herself from the clutches of oppression with the results that will emerge from this election. To demonstrate this is to cast your votes to be superior to the other towns'.
"We must ensure that Ido-Ekiti joins other towns, such as Ado-Ekiti, Ikere and Omuo, among other towns, that have produced big names in political positions and we must use Oyebanji's victory to create that opportunity for Ido-Ekiti.
"We have 27,000 votes in Ido-Ekiti as we speak. In the next INEC voters registration, the figure must rise to 30,000. We must make this election a victory vote because of our tomorrow by recording highest percentage of votes in the state.
"We have realised that those who had held top positions across the local government had been using Ido- Ekiti votes to clinch their political appointments. We must therefore assert our superior voting strength to enjoy more patronage."
He pleaded with APC members to double their campaign activities among opposition members, saying the latest victory of Asiwaju Bola Tinubu in the APC  presidential primaries had thrown spanners in the works of SDP in its strategy to lure the APC  National Leader to fund SDP's election on June 18.
He urged canvassers to check the voters registers already distributed by INEC to track and mobilise voters and ensure they arrive polling stations early to cast their votes on election day.
Fasuyi announced that more opposition members had indicated interest in defecting to APC, saying that, according to those interested in joining APC, the motivation is that an Ido-Ekiti indigene is APC's North Senatorial candidate.
APC leader, Rotimi Afolabi  aka Wonder  noted that low voting figure was responsible for low compensation for Ido-Ekiti indigenes in appointments. He pleaded with members to show more commitment to party's success and be honest in dealing with efforts to ensure greater success for the party,  stressing that the success of the party is for the collective advantage of all members.
Ido-Osi Local Government Chairman, Sola Ogunsina, urged Ido-Ekiti residents irrespective of party affiliations to vote for Oyebanji, as it is the only way to enjoy patronage from the incoming administration.
Top leaders at the meeting included Sola Ogunsina, Rotimi Afolabi, Ayo Fabuyide, Kolade  Ayewa,  Chief Saade Abiodun Layokun, Ido Ward One Chairman, Dele Ajepe; Ward Two Chairman, Taye Fadeyi; Ward One Women Leader, Kehinde Fawekun; Ward Two Women Leader, Taye Ajewole; Chief Afolabi, Michael Omojola and Modupe Ayodele.