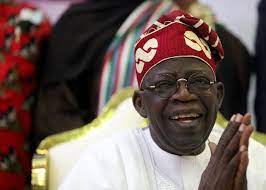 Drug allegation against Tinubu false, Says United States FBI agent
By Samuel Ogunsona
A former Federal Bureau of Investigation (FBI) agent, Mr. Akib Abiola, has debunked the rumor against the All Progressive Congress (APC) Presidential Candidate, Bola Ahmed Tinubu, over drug allegation story. Abiola describes Tinubu as a good leader who has dedicated a lot of his time to true democracy
Abiola who was at the time a special agent for FBI clears the air in a video made available to Irohinodua. Abiola was responsible for setting up the FBI office in Lagos in the early 1990s
He gave a graphic account of how Tinubu was close to the United States State Department as a politician of value, not a drug courier.
Abiola who describe the drug allegation against Tinubu as 'Nonsense' also indicate how he was able to help Tinubu facilitate asylum visa into the State department in 1994.
He said, ''I can tell you categorically that all the talks about Asiwaju involvement in drugs, money laundering are pure nonsense. There is no iota of truth in any of them. I was the one who facilitated Asiwaju asylum visa to the state department in 1994'' He added.
He said ''I was working with the US intelligence agency in Washington DC at that time.
According to him''Due to my position, I was able to help a lot of Nigerians who flew the country due to the political crisis to obtain an entry visa into the United State. I met with one of my colleagues Mr Hawkins who was the desk officer to Nigeria at that time concerning Bola Ahmed Tinubu's case.'' He said he was working with the US intelligence agency at the time and was able to help a lot of Nigerians to travel into United States through an entry visa when there was political crises in the Country.
"Mr Hawkins dictated a letter to me and instructed me to put that letter on our organization letter head . Our organization at the time was Nigeria Democratic Movement (NDM) in which I was one of the founding members. He directed me to pass the letter to the US ambassador in UK and send a copy to Asiwaju himself. In my presence, Mr Hawkins picked up his phone to make an appointment with the US ambassador in UK for Asiwaju by 9am the following day. He called me to inform Asiwaju about his appointment. ''
''When I called him, he was in the NADECO meeting which went on until about 3am UK time. I told him about the appointment and I send him a copy of the letter. That was how dedicated Asiwaju is to democracy and one of the leaders of NADECO. Most of them were in London at that time and we have meetings almost every night till late hours.'' He said.