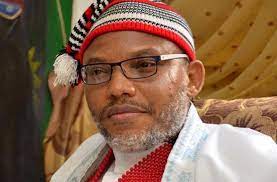 Dont harm Nnamdi Kanu, choose dialogue- Prof Olufunmilade, conflict expert warns FG (Watch Video)
The Federal Government has been asked to choose the part of dialogue in dealing with the arrested leader of Indigenous Peoples of Biafra, (IPOB) Me Nnamdi Kanu.
An expert in International Relations, Prof. Femi Olufunmilade said in a selfie broadcast obtained by Irohinoodia that any attempt to jail or kill Kanu may aggravate the situation and plunge Nigeria into greater crisis.
He said "I am a professor of International Relations and Strategic Studies with special interest in Conflict and Security Studies. I am passing this message across to president Muhammed Buhari, the Attorney General and Minister of Justice, Abubakar Malami. Both of them, we have been together for a long time as political allies in the days of the defunct CPC and even before then."
He said "Even though, one is not part of those who can take decision for the administration, one still feels that one should be able to intervene with pieces of advice when it is most needed. I want us not to feel the arrest of Mazi Nnamdi Kanu, leader of IPOB as a thing to rejoice about because I want to talk to you as an authority in Conflict Management, Resolution and Prevention and I am putting on my cap of Conflict Prevention presently."
Olufunmilade said "Mazi Nnamdi Kanu, who was put to custody, who later jumped bail, and now lately arrested is not the same as of before. The Mazi Nnamdi Kanu right now is one who embodies the hopes and aspirations of thousands if not millions of Igbo Youths, who are ready to follow him to any length. And we have been able to see how he has migmatite them to himself."
He said whether you believe the logic of the cause he is advocating for or not, the facts remains that he enjoys a huge followership that are consequential as far as peace and harmony particularly in the south eastern part of Nigeria is concerned.
"I will like the authority to be magnanimous in victory and to go beyond that and to see how a window can be opened for dialogue, so that whatever the grievances of his followers are, we will be able to resolve it amicably. But if you stand on the ground that they are terrorist and should be treated with iron hand, well, I am not sure we are going to see an end to this anytime soon because from my observation from the type of crowd he attracts, is quite electrifying . They are overwhelmingly large. I don't see them running back to their home now simply because he has been arrested."
He said further "I will rather plead that the Federal Government uses this opportunity to portray itself as one that can apply what former President Obasanjo called the "Stick and Carrot Approach" by saying now, let us discuss what actually is your problem.
I am not talking about Nnamdi Kanu as a person, I am talking about Igbo Youths and all Igbo Senior citizens who are also quietly behind the scene in support of the agitation by the IPOB members. And I am not talking about this alone, I am also talking about Yoruba Youths and elders who are also rooting for Oduduwa Nation, and they have millions of followers too. You only need to look at the crowd they draw each time they protest on the streets locally and even internationally. So, if anyone sits in a comfort zone and say these people don't matter, it is like postponing the evil days. Because, the caliber of Yoruba people I have seen coming out to protest locally and internationally include professors, lawyers, medical practitioners and consultants, and I am not talking about a crowd of hundreds, I am talking about thousands particularly in western nations."
Olufunmilade told President Muhammed Buhari that this is the time for him to put any form of inhibition aside, and open a door for dialogue.
"Don't let any of your assistants make this an occasion for passing across provocative messages on social media. That will be terribly counterproductive. I am not a soothsayer, neither a member of IPOB, but I am a social scientist and an observer of trends in Nigeria. I know that the crowd I see that this guy pulls, some of them are highly educated and sophisticated. The idea that they are all illiterate traders is not true. Some of them are highly placed people. We should not allow this to produce another kind of Boko Haram. You know Muhammed Yusuf was arrested too similarly, we don't know what happened, the next thing was that they produce his corpse and it was like the end of Boko Haram had come, before we knew what was happening, an Abubakar Shekau was upon us. I don't want an Abubakar Shekau in the case of IPOB. I want whatever grievances IPOB members have, to receive hearing at the presidential level. After all, the Miyetti Allah, despite the atrocities their members are committing across the country, killing, maiming, destroying farms, they keep talking and defending their members. They have not been taken to jail. Rather, the federal Government is talking about reclaiming grazing roots for them."
He said in a way the Federal Government recognizes that Miyetti Allah have legitimate claims and whether the method the federal government wanted to use to solve their problem is right or wrong, the facts remain that the president gave them a hearing and he spoke in a way to sooth their nerves.
"Why can't the President extend the same to all groups agitating? Not just IPOB in the East, we also have MASOB. In Yoruba land, we have OPC, and so many groups we don't even know existed. Even in the Middle Belt, we have the same thing and the South- South, you know of the avengers. So, people are unhappy. A lot of people are dissatisfied, it is not just limited to the Middle Belt, and South-South, even in the North. It is not every Fulani that is happy. So, president Buhari, why can't we have a dialogue?"