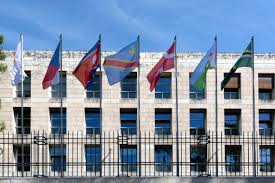 By Samuel Ogunsona
Delegates from around the world will meet in Rome to provide innovative solutions to sustainable transformation of Agrifood systems and safeguard biodiversity in the process.
Irohinoodua was informed that over 600 world delegates are expected to meet at the Tenth Session of the Governing Body (GB-10) of the International Treaty on Plant Genetic Resources for food and agriculture in Italy.
The meeting is scheduled to take place at the Food and Agriculture Organization (FAO) headquarters in Rome from 20 to 24th of November, 2023.
Some of the delegates expected to participate in the meeting include government officials, seed industries and farmers organizations.
The first day of the Conference will commence with an opening ceremony, featuring special guests, and will end with a special event on the theme of the Session: "From Seeds to Innovative Solutions, Safeguarding Our Future: Contributing to the Implementation of the Global Biodiversity Framework for Sustainable Food Systems." The discussions will include possible amendment to the Treaty, a roadmap for the enhancement of the functioning of the major systems of the International Treaty, in addition to the interrelation between the Kunming-Montreal Global Biodiversity Framework and the International Treaty.
The agenda of the Session covers a wide array of topics relating to the global Conservation and Sustainable Use of agricultural plants and seeds, sharing of benefits arising from their use, the enhancement of its worldwide gene pool, a decentralized Global Information System, the implementation of Farmers' Rights at the national level, and the Funding Strategy of the International Treaty.
A major focus of the Session will be the potential of seeds to provide innovative solutions for addressing global challenges such as loss of biodiversity and climate change. Seeds possess traits that enable crops to withstand or adapt to adverse conditions, including drought, which is becoming increasingly important in the face of climate change – the more diverse the seeds, the more resilient our agrifood systems will be. Additionally, locally-adapted seed varieties can offer improved nutritional profiles, rich in vitamins and minerals. Participants will deliberate on strategies for conserving these seeds in gene banks and in agricultural fields, and making them available for use by researchers, plant breeders and farmers.