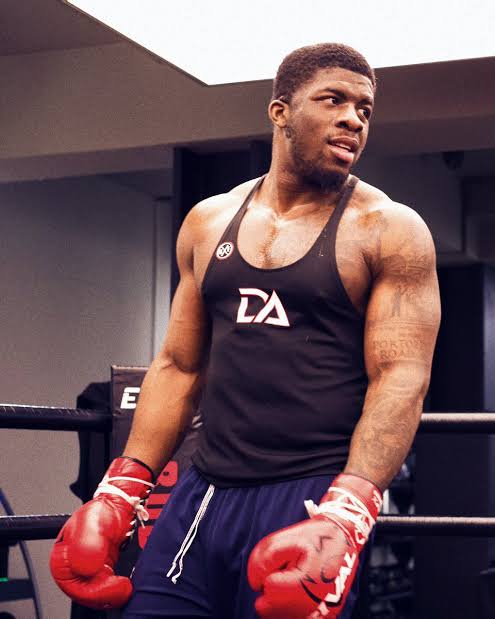 David Adeleye: The Ekiti born heavy World Heavy Weight Champion in the making
By Adewale Adeoye
There is star shining its light across the world. The star is breaking through the thick cloud of boxing to assert himself. In the past few years, a dominant voice is shaking the world in the realm of boxing, silently but noticeably.
In Europe, the talk in most boxing arena is about him. In London, his name is gradually becoming a house hold reference. Following the glowing examples of Anthony Joshua, the world's leading contender, most people now think the next boxing world icon, waiting to rule the world, is likely to be David Adeleye, 24. Last two weeks, Adeleke knocked out Mladen Maven.
He ended the duel with an upper cut. A commentator said David Adeleye 'notched up win number seven of his career.'
He had sent bigman Manev to the canvas, before the referee ended the fight. This has been the consistent pattern of David Adeleye who left no one in doubt of his ability to win the world heavy weight champion sooner than expected. He ended the stubborn Polish star Kamil Soko and knocked him out. He wrecked David Allens comeback and has become a dreadful specter that hunts any contender in the ring.
I visited his home town, Ipao in Ekiti State last week. Locals speak about him with a mix of awe and excitement. They are anxious to see him emerge on the world stage as the No 1 boxing icon but they are also nervous of the peril that lay ahead of him. "We don't miss his boxing events. We love him. He has brought honour to Ekiti. He has brought glory to Nigeria. He has brought grace to Africa and the black world. We are praying that very soon, he will emerge as the next world boxing champion", a young woman, Abike Ajayi who is a distant cousin of David told ma at Ipao, his native home. David last visited the community some years ago.
"We pray for him daily. He is an enigma. At 24, he has started building a monument that will draw the entire world", old man Samson Agbana who lives in the community told me.
"Adeleye has shown he can pack a punch and knock out his first five professional opponents in style" said one of his fans. Impressively, Adeleye is known and reputed for his knockout series now counting close to two digits. Another admirer quipped after Adeleye's last fight "Good performance from Adeleye, using his left to measure distance better than his last outing shows good development even against limited opposition." One said Adeleye should now be considered as a top contender after beating Manev and chips with curry sauce!"
Adeleye turned into a professional boxer on July 12, 2019 guided by Frank Warren of Queensberry Promotions banner. On December 21 2019, he showed rare talents during the contest for the WBC Silver heavyweight title when David Adeleye defeated fighter Dmitrij Kalinovskij in a technical knockout. The referee, Mark Bates quickly brought an end to the fight out of the fear for Kalinovskij. The fiery knockout was in the first round. His next battle was with Matt Gordon, held at the BT Sport Studio in London. He knocked out Gordon in the second round.
Again, his third fight which was against Phil Williams ended in the third round when he put an end to Williams rise. Subsequent battles have seen Adeleye shining like a comet which the boxing world agog with his exploits. Adeleye appears to have many things going for him. Close sources said he has an excellent family upbringing where personal discipline is the rule. "His parents who live in United Kingdom have distinguished themselves as very modest. He has a great family standard. This has helped him and will surely see him through the years ahead" a fan said. Again, his level of education is expected to be an advantage. Adeleye graduated in 2018 from the University of Wolverhampton. He read Business Management. His dissertation was in the Business Aspect of Boxing."
A political actor in his homestead, Deji Omotoyinbo said "The entire Ekamefa in Ekiti State are proud of him. The State Governor, Kayode Fayemi is proud of him." He said his people are waiting for him to emerge as the most dogged world boxing champion. For Adeleye and millions of his admirers across the world, that feat may not be too far from him.