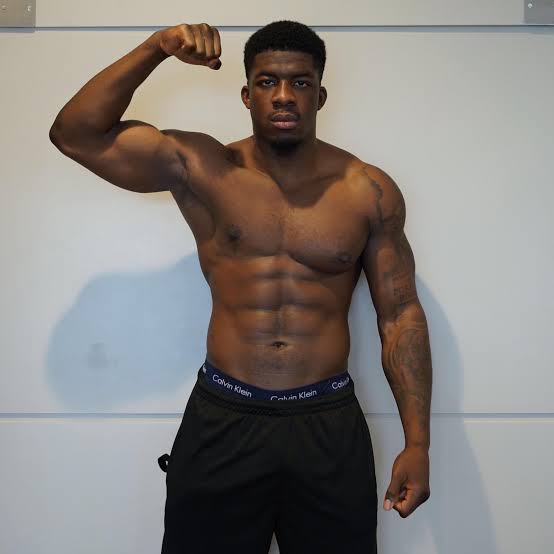 David Adeleye: A World Champion Waiting for the Crown
By Adewale Adeoye
This month of November saw another nuclear cells-when put together can run into millions of people-of supporters of Nigerian-British boxer, David Adeleye clustered around their mobile phones to watch another battle of their son. Many streets in Nigeria erupted to jubilation after David again smashed another of his opponent, Musil. "He is now the star of the moment. We want to see him emerge as the next World Boxing Champion" 80 year old Abejide, a prominent leader in Ekiti All Progressives Congress, (APC) told our reporter. He said the Governor of the State, Dr Kayode Fayemi and millions of people  in Nigeria have been following David with keen interest, hoping that very soon, he would emerge as the World Heavy Weight Champion.
Ironically, when David started his boxing career at 14, his parents never wanted him to go ahead unless after his University education. Being an obedient child, given to respecting his parents, David focused on his education with boxing kept in a special place in his heart.
Two weeks ago, he tore apart Dominik Musil on a Friday that sent millions of his fans, including those in Africa, Asia and Europe on another party mood. The last fight took place on Friday main event at York Hall in London.
No doubt, when in 1996 his parents gave birth to him, they did not make any mistake for choosing the name David for someone whose career has simply confirmed that he holds a sling that can demolish any Goliath. Adeleye has fought many battles and has never lost one.
'David Adeleye is the new boxing sensation in the world. We are watching him. He has demonstrated rare talent. We are aware he has some critics, but all comes down to the point that David is the cynosure of all eyes in boxing recent history. When you are a ripe and beautiful mango, many stones will be casted against you, that is the problem with critics of David," Akinwale Kasali who is a sports writer in Nigeria said.
Perhaps, in the boxing world, If there is any heavy weight hopeful, all eyes are on the Ipao-Ekiti-London born David Adeleye whose recent November win has added another feather to his glowing crown. Since Adeleye began his boxing career, he has never known defeat.
Excited David Adeleye said after another remarkable victory in his glowing boxing career "There's respect, they're giving it to me, I don't blame them, I demand respect."
He was observed to have started slowly, then began to build up his energy reaching its ecstasy to dismantle Musil  "He upped the pressure in round two landing some big shots in round two. The pace then slowed until Adeleye drove Musil reeling into the ropes with a right hand for a knockdown with moments left in round four. Musil looked done and didn't come out for the next round" wrote a journalist who watched the historic encounter.
Earlier, he had defeated Kamil Sokolowski on 24th April 2021 by points in the 6th round. The battle took place at York Hall, London, United Kingdom
On observer captured the David spirit in one sentence "The 24-year-old has clubbing, cumulative power, finishing all four of his pro opponents to date."
Adeleye under Frank Warren became a professional on July 12 2019 and since then his sword has never turned back. One report put it this way "He made his first professional debut on December 21, 2019, on the undercard of Daniel Dubois against Kyotaro Fujimoto for the vacant WBC Silver heavyweight title at the Copper Box Arena in London. The referee, Mark Bates, called a halt to proceedings as Adeleye defeated Lithunaian fighter Dmitrij Kalinovskij via technical knockout (TKO) in the first round.[13] On 10 July 2020, Adeleye returned with a second-round knockout over Matt Gordon at the BT Sport Studio in London.[14][15] Adeleye's third fight was a return to the BT Sport Studio on 29 August against Phil Williams, whom Adeleye stopped in the third round, achieving his third knockout victory in a row."
People close to him said Adeleye is a young man of high discipline, smart, clever, educated, polite and morally upright, attributed many think will certainly see him through a career of destined honour.
Adeleye, embraced amateur boxing with hard study left the University of Wolverhampton in 2018 with a degree in Business Management. He wrote his dissertation on the business aspect of boxing. Millions of people watching his career blossom see him as a World Heavy Weight Champion with the crown just a few years to his grab.