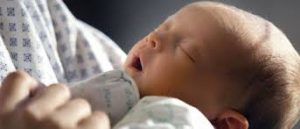 Thousands of worshipers today at the Laughter Foundation Cathedral were captivated listening to astounding stories of parents who came to dedicate their babies after decades of trauma. The Church holds its Miracle Service in the second Sunday of every month.
A couple brought a baby delivered after 31 years of marriage while two others who gave birth to sets of twins relay incredible stories of their rise from despair to hope.
 

The excited parents later dedicated the new born babies at the world's
only gynecological church located in Lagos, many of them with astonishing stories of transformation from melancholy to thrill, after decades of waiting for fruits of the womb.
One of the couples, Mr and Mrs Olanrewaju Bunmi Lawal said they had written themselves off after waiting for 31 years until a visit to Laughter Foundation brought a drastic change of fortune. Dr and Mrs Abimbola who said they married in 1996 but have gone all over the world without having a child, said coming to Laughter Foundation brought the succor least expected.
She said she did not know that she was pregnant until about seven months. "The doctors saw my swollen legs. They said I had arthritis. I was place on drugs. But after some months, I was asked to do scan because of unsual movement in my stomach. I was astonished when I was told that I have twins in my womb after 19 years marriage and several failed attempts"
Pastor Gbenga Oso the leader of Laughter Foundation during the service described God as 'awesome.'
"We were diagnosed with having fibroid and we thought it was the end of the world. We went to several hospitals but we could not have a child. We were diagnosed for hormonal imbalance and fibroid. We thought we could never make it in life to raise children. When we came to Laughter Foundation, we did all that the pastor told us to do. Today we have a child', Mrs Lawal told a thunderous gathering. A couple that once lived in the United States, (US) where one of the best gynecologist in the world, Dr Wildred, a Jew once ruled them out, said the mother of the twins had not experienced menstruation since 2002.
"At one of the best hospitals in in India, we went for medical care so as to have children. We went to United Kingdom, we went to South Africa but we did not succeed. We met Prof Wildred, A Jew who said he was closing our file. He told us that in his 47 years of medical practice, he had never seen a womb so bad. He said it was absolutely impossible for us to have children. We packed our load and came back to Nigeria. A friend introduced me to Laughter Foundation. We thought it was hopeless. But to our surprise my wife got pregnant and delivered a set of twins", he told the congregation.

 
The church, established in 1997, is believed to be the world's most remarkable gynecological church committed to assisting parents who face the challenge of having children either due to scientific or spiritual challenge