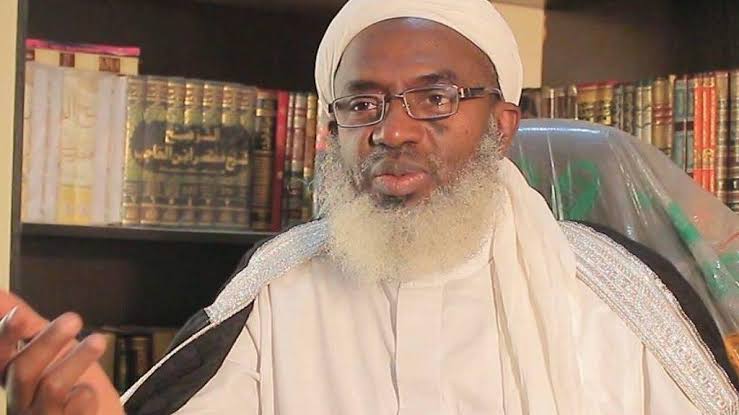 Consequences of Sheik Ahmad Gumi's visit to Kogi State
"We wonder why Gumi came to Yorubaforests to meet Fulani in Kogi with heavily armed Nigerian security men"
By Hon. TeeJay Yusuf
Member representing Kabba-Bunu/Ijumu Federal Constituency
What started, few days back in whispers, through intensive, extensive telephone conversations, messages, chats and posts on various social media networks and platforms, about the "invasion" of Okunland by the respected Islamic scholar and cleric; Sheikh Ahmad Abubakar Gumi, was finally confirmed by not only the Zamfara-born religious cleric but also the Kogi State Government.
From information pieced together, Sheikh Gumi, who got to Kogi State with a large collection of heavily armed security operatives moved into some forests in Okunland to meet with Fulani herders. It was gathered that the Islamic scholar was on a purported medical mission to his kith and kin who have taken refuge in some locations within the forests of Okunland.
Regardless the genuineness and sincere motives of Sheikh Gumi's visit to his Fulani brethren in Okunland, the timing, movement and everything about it gives room for outright suspicion, doubt, worries and anxiety. It thus appears that his visit, mission and intention were carefully, deliberately wrapped in secrecy. Expectedly, this has thrown up numerous questions, posers and enquiries amongst the good, peaceful people of Okunland. Why did the Kogi State Government not involve some of its appointees from Okunland in the visit? Was the Muslim Ummah and/or the leadership of Islamic Groups in Okunland aware? Why did Sheikh Gumi not pay homage or visit ANY traditional institution in Okunland? Did he extend same to ANY of the Islamic Leaders in Okunland? Why did Sheikh Gumi conduct the medical mission and meetings with his Fulani brethren late into the night; away from public view and scrutiny? Can the revered Islamic scholar truly convince people that his visit did not go beyond medical mission? Are there other underlining motives behind and beyond the visit?
Indeed, for any right thinking Nigerian, abreast with the fast-growing security challenges across the country, these questions and posers are not only germane, but appropriate, which requires very prompt, straight and direct responses from not only Sheikh Gumi, but the Kogi State Government and even the Federal Government.
Moreso, given the preponderance of the nefarious, rudderless and wicked activities of alleged Fulani herdsmen in, within and around communities in Okunland, it is necessary to irrevocably state that these worries are not misplaced. It is sad, shocking and painful that, in the past six years, the entire Okunland reputed and recognized as a peaceful and quiet haven has been turned into nest of sorrows, worries, fears, tears and blood. Sadly, on a daily basis, across the entire Okunland, scary incidents of kidnapping, banditry, killings, looting and destruction of farmlands and other properties by alleged Fulani herdsmen have now become regular fixtures. The corrosive and debilitating effects of the ceaseless security activities allegedly perpetrated by Fulani herdsmen on the good people of Okunland has been unimaginable. More disturbing is that, the people of Okunland, generally recognized for its industry, competencies and leadership position in agriculture; aside education, in the entire Kogi State and North Central zone, cannot go to farms anymore. Serially and severally harassed, intimidated, hounded, bruised and attacked by alleged Fulani herdsmen, the vast majority of our people, in the hinterland, have been forced to flee their farmlands and abandon farming. The negative effect of these unnecessary and painful development on commerce, trade, social and economic activities in the entire Okunland need not be over-emphasised. It is worrying, painful and shocking.
Drawing from the foregoing, it should not be surprising that the recent "visit" of Sheikh Gumi to the forests of Okunland is not only raising public outcry and criticisms, but has thrown up very genuine fears, concerns and worries amongst the good people of Okunland. Without doubt, Sheikh Gumi's entrance into Okunland is viewed by many as an interloping action by the Zamfara-born cleric, and an injurious slap on the sensitivity of the people of Okunland. To an extent, Sheikh Gumi's act and action is not only insolent and indecorous, but largely regrettable, injudicious and incongruous in all ramifications.
As it is, there is a growing atmosphere of anxiety, fear, doubt and apprehension amongst the good people of Okunland; at home and abroad. The Sheikh Gumi's unmeasured, obtrusive and less-than-tactful but insidious in-road into Okunland has evoked a cacophony of unbridled doubt and unmitigated disbelieve; amongst people, about the sincerity of Federal and State government in protecting their lives and properties. Somehow, it thus appears that; going by the way and manner Sheikh Gumi made his "triumphant entry" into and carried out his activities in Okunland, his actions may have the approval of government. One is not only worried but equally disturbed that, Kogi State Government, obviously aware of the growing security concerns not only in Okunland, but across the entire state, exhibited some measure of tardiness in handling Sheikh Gumi's visit to the affected areas, communities and forests.
On this score, one will strongly advise Kogi State Government to not only live up to its constitutional responsibilities but fulfill its promises by protecting the lives and properties of the people of Okunland and other Kogites across the length and breadth of our very dear Confluence state. To achieve this, and promptly too, the state government must evolve strategic measures and conflict-preventive mechanism that will assuage the feelings of people, re-invent trust, give hope and promote peaceful cohesion. Perhaps, it is important to stress that the people of Okunland; naturally peace loving and accommodating, cannot afford to be second or third class citizens in their own ancestral homes and farmlands. It is expected that government; Federal and state, will do everything lawful and legal to reduce, contain and limit the illegal, gruesome, wicked and over-bearing attitudes of alleged Fulani herdsmen who aside living and operating as demi-gods in Okunland, inflict unfathomable depth of attacks on defenseless people. In doing this, government must, as a matter of necessity, drop every robe of huckster and hubris disposition which encourages hubbub environment that are inimical to meaningful growth and development, as well as peace, unity and cohesion.