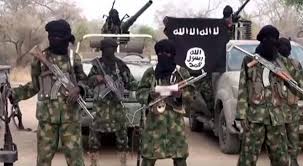 Community claim Terrorists use helicopter in Kaduna attacks
By Jubril Aliu, Kaduna
Some communities in Kaduna claim they were this week attacked by terrorists who flew and rained bullets on them using one helicopter
Anthony Ahmed a community leader in the affected area told Irohinoodua that 32 where killed when the terrorists bombarded them from low flying helicopters that held on the the air attacks on Tuesday and Wednesday this week.
The Southern Kaduna Peoples Union, (SOKAPU) confirmed the attacks.
The residents of Adara located in  Southern Kaduna State said 32 locals were mauled down by the terrorists
Joseph Daodu a member of the Evangelical Church Winning All (ECWA) in Adara said the church was attacked by terrorists in helicopter.
"This is the first time we have been attacked by terrorists using helicopter. We know helicopters have been sighted supplying them with weapons, but this time they attacked us with helicopters which is unfortunate"
The National President of Adara Development Association (ADA), Awemi Maisamari, stated, yesterday: "The pogrom against Adara nation rages on. In the latest tragedy, Ungwan Gamu, Dogon Noma, Ungwan Sarki and Maikori villages near Maro in Kajuru Local Council were attacked on Sunday, June 5, 2022.
"The death toll this morning (Wednesday) is 32, as villagers comb surrounding bushes for more bodies. Seven were found this morning decomposing."
He told The Guardian Newspaper that  the attack started around noon and lasted until around 06:00 p.m. unchallenged by the state.
He also said other attacks were carried out by Fulani terrorists on 150 motorcycles carrying three armed persons each.
Residents who spoke to Irohinoodua in Kaduna claimed that the terrorists using helicopter should not be strange given their free reign in some parts of the entire North Central states.
Our correspondent could not independently confirm the claim by locals that they were attacked by terrorists using helicopters.
A top police officer in the state who does not wish to be named said the Adara Community was yet to report any incidence involving terrorists using helicopter to the command. He said such claims should be proved by the community.