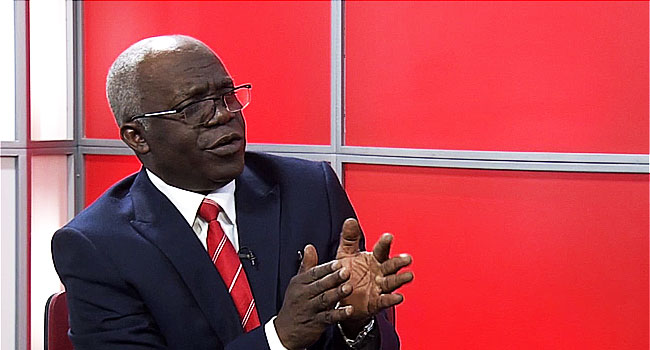 CBN Cash Withdrawal Limit is illegal, says Femi Falana, goes to court
By Joseph Ologeh
 
Nigeria's most famous rights advocate, Mr Femi Falana may drag the Central Bank of Nigeria, (CBN) to court if it fails to halt its proposed plans to limit cash withdrawal to 20,000 per day being 100,000 in one week.
Millions of Nigerians are billed to be affected by the proposed unilateral decision of the CBN to limit cash withdrawal by Nigerians. About 110million Nigerians have access to the internet, representing less than 55 percent of the population, while less than 120million Nigerians, representing almost half of the population have access to banking services amidst internet hitches.
The legal icon, Mr Femi Falana described the decision of the CBN as unconstitutional. Falana said ' It is embarrassing that the Central Bank of Nigeria has been making announcements without any regard to the Constitution and other relevant laws on the national economy. It is particularly worrisome that the Governor of the Central Bank of Nigeria has purposely placed a limitation on cash withdrawals in Nigeria in complete defiance of section 2 of the Money laundering Act 2022 which provides as follows that no person or body corporate shall, except in a transaction through a financial institutions or designated non-financial businesses and professions with intent to (a) avoid the duty to report a transaction which should be reported under this act; and (b) breach the duty to disclose information under this act by any other means.
"Since the Money Laundering Act 2022 (which has fixed maximum cash withdrawal to N5 million) has not been amended, the limitation of cash withdrawal of not more than N20,000 per day and N100,000 per week fixed by the Central Bank of Nigeria is illegal, null and void in every material. We urge the Nigerian people to ignore the illegal announcement.
"However, we are compelled to call on President Muhamadu Buhari to direct the management of the CBN to withdraw the illegal guideline and stop announcing more policies that are designed to sentence poor citizens to more excruciating economic hardship".
The Nigerian Human Rights Community, (NHRC) in a statement by its official, Mr Taiwo Adeleye praised Mr Falana for the timely intervention. The group said the former President of West African Bar Association, (WABA) remains the 'most outstanding pillar of democracy and the best friend of the Nigerian masses.' Adeleye said the CBN policy would create a cash strapped economy instead of a cashless society. He said though the CBN tries to establish a withdrawal limit, but that in reality, the big politicians know how to get millions of cash from the banks when they need it. 'The policy is anti-people and will only strangulate the poor masses of Nigeria', he said.