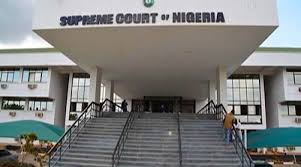 Cash scarcity: Supreme Court adjourns till February 22
By Samuel Ogunsona
The Supreme Court on Wednesday adjourned hearing in the suit filed by some state Governments challenging the Federal Government policy on cash scarcity and the misery already inflicted on millions of Nigerias, men, women, aged, children and people living with disabilities.
The Central Bank of Nigeria (CBN) policy initially gave a deadline of January 31 but later extended to February 13 for Nigerians to exchange their old notes for new ones..
However, neither new or old notes are available to increasingly cash strapped Nigerians.
Some state governments or Kano, Ekiti, Kaduna, Ondo and Kogi states are challenging the Federal Government against a policy that has seen many desperate Nigerians stripping themselves naked in banking halls in what gas been described as Corporate Suicide Bombing
The CBN Governor Mr Godwin Emefiele was believed to have initiated the policy in collaboration with a few elected and unelected people in Nigeria's seat of power who are opposed to smooth democratic transition
Some member of the ruling Peoples Democratic Party, PDP believe the President, Mohammadu Buhari is working with some people to ensure a handover to the opposition candidate, Atiku Abubakar
The Supreme Court was filled today when the hearing of the suit was mentioned.
Senior lawyers including governors of Kaduna and Kogi states, Nasir El-Rufai and Yahaya Bello were in attendance.
The apex court had banned the implementation of the February 10 deadline of the CBN from making the old N200, N500, and N1,000 notes legal across Nigeria.Apparently. the order was not obeyed by even the courts who have refused to open their doors to customers.
Justice John Okoro leading a seven-man panel said the court is aware of how the issue affect millions of Nigerians
He adjourned the case to February 22, next week Wednesday.