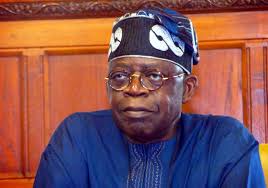 Tinubu breaks silence on Amotekun, says dialogue with FG will resolve feud
By Ayodele Ojo
National Leader of the All Progressives Congress (APC) national leader, Asiwaju Bola Tinubu, has called for dialogue at all levels to resolve the lingering debate on Amotekun, the South West regional outfit initiated by the Governors of the South West States through the Development Agenda for South West, (DAWN). He said he strongly believes that Amotekun will not in any way destabilize Nigeria. He however warned of about what he called ""dangerous rhetoric of those who should know better." The statement of the former Lagos State Governor was made available to Irohinoodua today.
Tinubu also wants the Governors to meet with President Mohammadu Buhari and other stakeholders.
He said mutual discussion is the best way to resolve the tango.According to him, a high level meeting between the Minister of Justice Mallam Abubakar Malami and the South West Governors will go a long way in resolving the feud.
Asiwaju Tinubu said: "Those claiming that this limited, inoffensive addition to security threatens the Republic have taken themselves upon a madcap excursion.
"Those claiming that the Federal Government seeks to terribly suppress the Southwest have also lost their compass. Those who occupy these two extremes have sunken into the dark recesses of fear and political paranoia that can undo a nation if such sentiments are allowed to gestate."
The statement tagged "The Public Discourse Over Amotekun," and released on Wednesday reads: "Amotekun. This issue has dominated recent discourse and media headlines. Distilled to its basics, it concerns how best state governments can assist with the safety and security of their residents. This is a matter of serious concern entitled to sober thought. However, it has been turned into a political tug-of-war. Fierce, often unthinking rhetoric, for and against, has crossed the lips of too many Nigerians. More subjective talking than objective thinking has been the fuel of this outburst.
"Question those in favour of Amotekun. Most have but the vaguest notion about it. They know few details yet vigorously attribute to its opponents the most negative intentions. Ask those who oppose Amotekun. They are equally ignorant of its provisions. They oppose the initiative not on its merits but merely because it was proposed by their political opponents or because they don't see an avenue for personal gain from it.