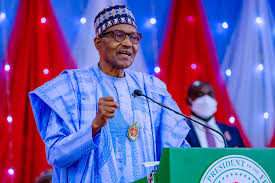 Buhari calls on Nigerians to vote for Tinubu
By Omolade Adegbuyi
President Muhammadu Buhari has asked Nigerians to come out in large numbers to vote for the All Progressives Congress, (APC) Presidential candidate, Asiwaju Ahmed Bola Tinubu.
In a statement made available to Irohinoodua signed by the President's media aide, Garba Shehu the President spoke on Sunday from Addis Ababa, Ethiopia.
Buhari said he is fully aware of hardship caused by some policies of government, "which are meant to bring overall improvement to the country" and appealed for further patience as the government takes appropriate measures to ease them.
In a video recording to shore up support for Senator Bola Ahmed Tinubu, the candidate of the All Progressives Congress, APC in the upcoming elections a few days ahead, the President thanked Nigerians for electing him to be President for two terms, and urged them to vote for the APC flag bearer because "he is reliable and I know he will build on our achievements."
The President said in the campaign message to voters, the President specifically put a call on "our traditional rulers, religious leaders and parents to warn their followers and wards alike, to not allow themselves to be used by a few to foment trouble.
"I want to assure you that the Government has taken adequate security measures to allow everyone to come out and cast their votes. I am therefore appealing to everyone to give them the necessary support.
"Fellow Nigerians, I want to use this opportunity to once again thank you for electing me to be your President on two occasions" the President said.
He said "I am not a contestant in this election, but my party, the All Progressives Congress, has a candidate in the person of Asiwaju Bola Ahmed Tinubu. As I mentioned before, Tinubu is a true believer in Nigeria, who loves the people and the development of our country."
He said further "I am calling on all of you to vote for Asiwaju Bola Ahmed Tinubu. He is reliable and I trust he will build on our achievements.
"Finally, I want to once again assure you that I am fully aware of the current hardship you are facing as a result of some policies of the government which are meant to bring overall improvement to the country.
"I am appealing to you to exercise further patience as we take appropriate measures to ease these hardships. God willing, there will be light at the end of the tunnel."
The President emphasized that the APC presidential candidate has demonstrated his commitment to the development of the country and the well-being of its people.