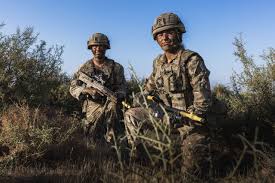 British army 'no longer able to defend UK and its allies, US general warns'
Rishi Sunak aware of 'urgent need' to hike spending on army, says Tory defence minister
By Adam Forrest
Political Correspondent
Sunak understands British Army 'in urgent need of recapitalisation', says defence minister
The British army is no longer regarded as a top-level fighting force, a senior US general reportedly told defence secretary Ben Wallace amid fresh concerns over the UK's military spending.
Senior Tory MP Tobias Ellwood, chair of the defence select committee, said the army was in "dire state" and called on Rishi Sunak's government to reverse cuts to the army because we are at "war in Europe".
It follows a warning by defence sources that budget cuts have seen the army decline in the eyes of world leaders. "You haven't got a tier one – it's barely tier two," the US general told Mr Wallace, according to Sky News.
The defence budget would need to be increased by £3bn a year to address the US concerns, sources told the broadcaster – with one warning that the armed forces were "unable to protect the UK and our allies for a decade".
Raising the US general's reported remarks in the Commons, Mr Ellwood said they tallied with his own committee's findings that the Ukraine war had "exposed serious shortfalls in the war-fighting capability of the British army".
Admitting to budget concerns, defence minister James Heappey said Mr Sunak and chancellor Jeremy Hunt both understand that the army was in "urgent need" of greater spending.