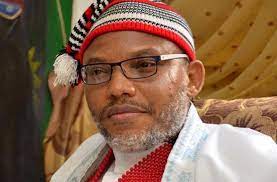 Britain may seek Nnamdi Kanu's return to UK
'My abductors claimed they were told I'm Islamic terrorist" Kanu
By Kate Azubuike
The British Government may seek the return of the leader of Indigenous Peoples of Biafra, (IPOB) to the United Kingdom. His lawyer, Aloy Ejimakor said the British High Commission has already made request sent to Kanu for assistance from the country where he had lived for years. A legal firm, Bindmans, based in the UK is also interested in suing the Nigerian government on behalf of Kanu who is a British citizen but Nigerian by birth.
Ejimakor said he met Kanu on Wednesday and that he said he was kidnapped in Kenya and blindfolded before taken to the tarmac by men who said they were acting on instructions that he was a terrorists being sought by Nigeria. He said his arrest was without any warrant and that such violates international laws. He said Kanu revealed to him that those who abducted him were acting on the information that he was a terrorist linked to Al Shabbar which has been terrorizing Kenya for decades. But it is uncertain how Kenya would act on such information without diligent investigation prior the abduction.
On the involvement of Britain, he said the consular had sent a consent form that the British High Commission required that he signs. There was also a form from his counsel in the UK. The firm is known as Bindmans, one of the largest law firms in the UK.
Ejiamokor said "The forms will open a whole new chapter of legality, including the filing of a Writ of Mandamus, against the Nigerian government in a UK court to compel it to produce Kanu, because his detention is illegal under the British law. It was an extraordinary rendition, which is an international crime by which a state kidnaps a suspect or a fugitive without the due process of law.
"They will be filing all these processes in the UK and there is a prospect of a UK court assuming universal jurisdiction or extra-territorial jurisdiction and reaching into Kenya so that they can arrest every Kenyan official, either authorised or not, and every Nigerian official involved in this case."
"He was blindfolded and driven to the tarmac very close to the plane without passing through the airport immigration.
"According to Kanu, no warrant of arrest was shown to him or even mentioned to him. And for the eight days, he was held incommunicado, nothing of presenting him before a court or transferring him to an official detention facility was ever mentioned. He was held in a nondescript private facility and chained to a bare floor.