Breaking News: EKSU Vice Chancellor escapes death in autocrash
By Abib Lookman
The Vice Chancellor, Ekiti State University Ado-Ekiti, Professor Eddy Olanipekun escaped death after a terrific auto-crash today.
The incidence took place between Ado-Ekiti and Iworoko where the University is located
Irohinoodua correspondent in Ado-Ekiti was informed that the VC was in the car with his driver when the crash occurred today in Ado-Ekiti.
Sources said the driver was trying to avoid a head-long collision when he veered off the road.
The car crashed. Security operatives were later called who responded promptly.
"The Vice Chancellor is in a stable condition. He is fine. He is being treated for shock. There was no major injury" an eye witness told Irohinoodua this evening. The source said there was no casualty and that the two occupants of the vehicle were taken to the State Hospital. The source said Olanipekun is in good condition but has been advised by Doctors to take enough time to rest
But a statement from the University signed by Bode Olofinmuagun,
Head, Directorate of Information & Corporate Affairs and made available to Irohinoodua noted that the Vice Chancellor, Olanipekun is not "involved in any accident contrary to insinuations in some quarters."
The statement however admitted an accident in the convoy of the VC. It stated "As a matter of fact, it was his back up vehicle that was involved after the Vice Chancellor had already passed by the scene.
"Those involved in the accident are already receiving treatment at the Ekiti State University Teaching Hospital (EKSUTH) and they are in stable conditions."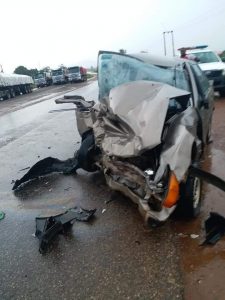 kn