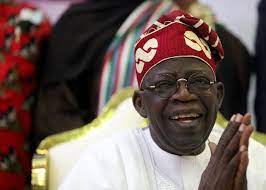 By James Kayode Adekanmbi
President Elect, Asiwaju Amhed Bola Tinubu's antecedent gives some of us that he is the very person who can lead Nigeria to the promised land.
I address the President Elect, Bola Ahmed Tinubu. You have involved your life with honor, integrity and generosity and willingly chose to give something back to a nation that has blessed you so richly especially in the areas of investment and this is because of the love you have for our country Nigeria.
Moreover, you risked your life to take power from military rule during NADACO, and you also undertook the important principle that can make things happen with much greater success than the government could ever hope for, example when the Federal Government denied you allocation to operate as the Governor of Lagos State for four years and you succeeded without owing any Local Government " This is wonderful" The blue print you left for the state is still in operation till now, that makes it to be the best state in West Africa .
Also, through your generous act, millions of Nigerians ( regardless of tribe or religion) have attained upper level in life. Keep it up, because this is the secret to your success.
However, you even extended the wealth of your professionalism in the Economic to Mobile International to solve the great challenges facing them despite all their experiences (We are so blessed to have you in our country). You are within the short reign as the primetime minister.
Your Excellency If you will not mind, I wish you can make use of some of the suggested ideas as a pathway to success in your administration:
a. Functional refinaries is urgently needed.
b. Making use of the national gas burning away everyday.
c. Making Agriculture a priority in every state by having settlement in every local government.
d. Making the country a producing one and not only consuming for example, as of 25/07/2022, the exchange rates was:
£1 = ₦800 and above
42 years ago, precisely on 25/07/1980 the exchange rate was:
$1 = 0.80k
Well, we were far more productive in 1980 than we are today.
We were a net exporter of refined petroleum products. Today we import all our refined petroleum products.
We rode in locally assembled cars, buses and trucks. Peugeot cars in Kaduna and Volkswagen cars in Lagos.
Leyland produced trucks/buses in Ibadan and ANAMCO in Enugu also produced buses and trucks.
Vono products in Lagos produced the vehicle seats.
Exide in Ibadan produced the batteries, not just for Nigeria but for the entire West Africa.
ISOGLASS and TSG in Ibadan produced the windshields.
Ferrodo in Ibadan produced the brake pads and discs.
Dunlop produced Tyres in Lagos and Mitchelin Tyres were produced in Port Harcourt. And I mean tyres produced from rubber plantations located in Ogun, Bendel and Rivers State.
We were listening to Radio and watching television sets assembled in Ibadan by Sanyo.
We were using refrigerators, freezers and Airconditioners produced by Thermocool and Debo.
We were putting on clothes produced from the UNTL Textile Mills in Kaduna and Chellarams in Lagos. They were Not from imported cotton but from cotton grown in Nigeria.
Our toilets were fitted with WC produced in Kano and Abeokuta.
We were cooking with LPG gas stored inside gas cylinders produced at the NGC factory in Ibadan.
Our electricity was flowing through cables produced by the Nigerian Wire and Cable, Ibadan; NOCACO in Kaduna and Kablemetal in Lagos and Port Harcourt.
We had Bata and Lennards Stores producing the shoes we were putting on. The shoes were not from imported leather but from locally tanned leather in Kaduna.
We were mainly flying our Airways, (the Nigeria Airways), to most places in the world. The Nigeria Airways was about the biggest in Africa at the time.
17.Most of the foods we ate were grown or produced in Nigeria.
We were producing all of the above and many more in 1980.
Your Excellency you need to be very careful in selectionbof people to your cabinet, to avoid people like Saraki during the last regime . Do not have absolute to the decamp pees.
The youth to be encourage on craft and technical production as to be self reliance and productive.
Health sector to be highly considered.
Your Excellency Asiwaju ( The born Leader) ride on Baba IWO LO pKAN! God is with you
"Ibi ti won niki gbegbe ma gbe ibe lo n gbe, ibi ti won niki tete ma te, ibe lo n te , a te gbe lese te na, owo ki n lo si enu ko ma bo ….wa lo re, wa bo re, odun mejo eni odun kan ni".
BEST OF LUCK!
James Kayode Adekanmbi writes from No 16 Oluwakemi Street, Ojodu Abiodun Berger, Lagos 08033162371 08051493984