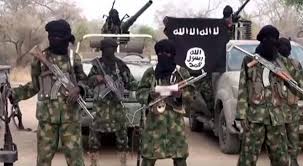 Boko Haram terrorists have produced 20,000 children
By Lukeman Sanusi
Terrorists in the North West have produced no fewer that 20,000 children, a strategy aimed at increasing the population of fresh fighters recruited from among the children they father.
Speaking on the incidence, the Theatre Commander of Operation Hadin Kai, Major General Christopher Musa, said over 11,000 terrorists have already surrendered to the Nigerian Army.
He said the greatest challenge the Army faces is the Improvised Explosive Devices, (IEDs) made by the terrorists who plant them on the route used by soldiers.
He blamed bad roads for the ease of planting the explosives by the terrorists.
Musa, whose group has recorded successes against the terrorists spoke to Metro Watch based in the North East.
He said "I can tell you that over 11,000 fighters have surrendered. We have more than 20,000 kids fathered by them. And they have one system of increasing their population. They impregnate their wives four months after they have given birth without allowing them to wean the previous baby. This is a strange mentality to increase their population."
According to him the main challenge the soldiers face now is the IEDs the terrorists plant on the way.
He said the bad roads aid the terrorists.
He said "We have removed over 98 IEDs so far and are still counting. We are making do with hampholders to sort this lingering IED menace. You can imagine, between Maiduguri and Monguno is a distance of 180km and you will have to drop down to the ground intermittently to clear the road before continuing the journey. But if the roads are fixed, that would be eliminated completely. The government should just help us tar the roads."