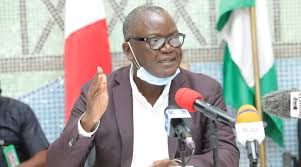 Benue takes the lead, to procure AK-47 for community guards
By Usman Oba
The  Government of Benue State Governor will procure AK 47 assault rifles for the newly created Community Guards.
The State Governor Samuel Ortom took the courageous step on Thursday while inaugurating Community Guards.
He said the Corps would legally procure Ak-47 to ward off terrorists boozing around the state of some 7million indigenous people mainly Tiv, Idoma and Igede peoples.
He spoke Ortom Makurdi
Irohinoodua was informed that other states in Nigeria including Zamfara,Ekiti and Ondo are also thinking along the same line.
Benue has lost no fewer that 5,000 people to armed bandits. There are some 2m Internally Displaced Persons, (IDP) in the state.
Ortom plans to recruit 500 men from the 23 local government areas of the state.
More people he said would be recruited as time goes on, officials told Irohinoodua.
He said the Federal Government has failed to meet the expectations of his people.
He said his Government would legally procure AK-47, AK-49 and other equipment necessary to protect the people of his state.
He said "Given the fact that the Federal Government has consistently failed to disarm the terrorists who have continued to maim and kill our people at will, the state government is going to apply for a licence to legally procure AK-47, AK-49 and other sophisticated weapons for the Benue State Volunteers Guards to enable them tackle these murderous terrorists effectively.
He spoked further "To do this effectively, the Benue State Government had approved a two-week capacity building programme for 500 personnel of the Community Volunteer Guards to learn some basic paramilitary aspects."
He said Benue State Community Volunteer Guards would operate within the legal framework.
Benue has also procured 30 operational vehicles and 200 communication gadgets for the Volunteer Guards.
Ortum more than any state governor has shown courage cast in iron in the defence of his people who have been mercilessly and savagely killed by terrorists.