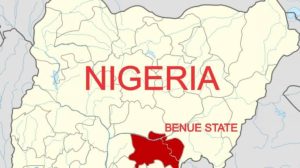 By Joseph Ologeh
In a radical move, Benue State Governor Samuel Ortom will on Sunday confer a post humous honour of late Major Gideon Orkar,the minority right advocate that led armed rebellion against the Nigerian state on April 22, 1990.
The shot Orkar had on April 22 led a military coup that raised the question about domination of Nigeria by the Fulani hegemony.
Orkar collaborated with military officers from the South and Middle Belt in a bloody revolt that jolted the then Head of State, General Ibrahim Babangida whi had issued a statement earlier that he was of Fulani stock and that his grandfather had migrated to Niger State from Sulubawa in Sokoto State.
Orkar accused him of homosexuality, corruption and leading a corrupt and irresponsible government
His other collaborators were Col Tony Nyiam, Major Silva Mukoro and many others mainly from ethnic minorities..
Orkar then went ahead to excise the core Fulani states from Nigeria. The coup lasted for few hours before it was crushed.
Defiant Orka who is married to a Yoruba woman from Owu, in Ogun State, stood his ground in defence of his rebellion.
Addressing newsmen after the Executive Council meeting on Tuesday, in Makurdi, Governor Samuel Ortom, who spoke through his Commissioner for Information, Culture and Tourism, Mr. Michael Inalegwu revealed that a street would be named after Orkar in Makurdi, to immortalise him.
He said historic events have confirmed the unique place of Orkar in Nigerian history.
His decision is expected to hurt the core Northern establishment.
Benue has for many years seen violent attacks from Fulani herdsmen. No fewer than 2million people of Benue origin are currently in IDP camps.