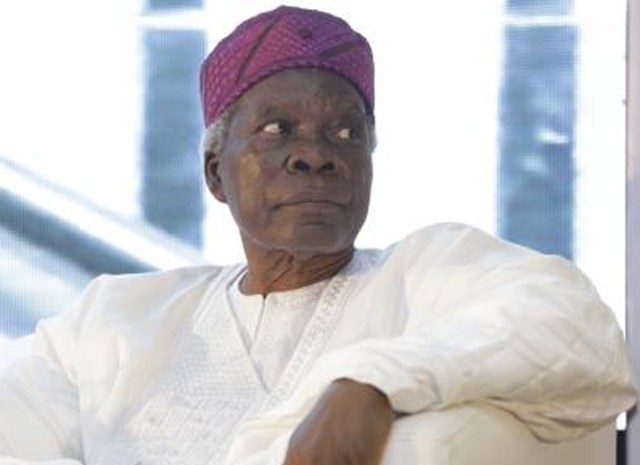 Attempts to remove Akintoye as Yoruba leader failed
……Victor Taiwo insists Akintoye cant be YWC leader
By Odusote Alao
Attempts to remove Prof Banji Akintoye as the Yoruba leader have failed.
This followed the Pan Yoruba groups' meeting organized by Yoruba World Congress, (YWC) top official, Mr Victor Taiwo which ended in a fiasco. The meeting scheduled for Ibadan on Thursday ended with participants not being able to agree on a common ground. Taiwo had planned to remove Akintoye on the ground that he had formed another organization known as Onala.
Irohinoodua correspondent who attended the meeting observed that the organisers of the meeting did not receive the blessing of some members of the Yoruba World Congress, (YWC) including its prime leader, Prof Banji Akintoye.
Taiwo, the leader of O'odua Redemption Alliance, (ORA) based in Ibadan had sent invitations to several groups across Yorubaland to attend the meeting at Ibadan on Thursday.
Taiwo said the essence of the meeting was to appraise developments in the Yoruba World Congress, (YWC) towards renegotiating its mission. Taiwo recalled that he was the brain behind the formation of the meeting held in 2019 at Ibadan where Prof Banji Akintoye emerged at the Yoruba leader. He said leading the YWC should not be the same as leading the Yoruba Nation.
He said "Now that Prof Akintoye has made public announcement of his abandonment of the Yoruba World Congress, (YWC) supposedly housing several organisations" He said further "Prof Akintoye literally waved aside his Ibadan electorate and brazenly handed the project to an unknown orgaisation known as Onala Group formed by a clique of his apostle. Despite  that he publicly accepted the leadership gift given to him by the electorate who converged in Ibadan to elect him, all his attitude summarily attenuated the Ibadan election with absolute disdain"
Taiwo has some supporters especially in the Diaspora who think the YWC leader should be separated from being Yoruba leader. Taiwo had proposed the establishment of a Yoruba General Assembly made up of representatives from all the Yoruba sub-ethnic groups. As he read his speech, the YWC Secretary for Organisation, Evangelist Kunle Adesokan and many leaders of participating organisation rose against him. Adesokan said there was no contradiction between Akintoye leading the newly formed organization and his status as the leader of Yoruba Nation.
Adesokan, who appears to have more supporters among the participating organisations interrupted Taiwo. The YWC Organising Secretary, Adesokan was supported by majority of the organisations present many of who reaffirmed their confidence in the leadership of Prof Akintoye. Adesokan later told journalists that attempts to remove Akintoye as the Yoruba leader by those he described as renegades was resisted by more than ninety percent of the people present at the meeting. He said there was no communiqué and that any document being circulated as the resolution of the Ibadan meeting was fake.