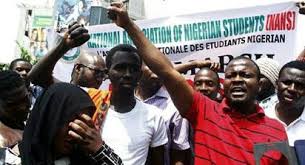 ASUU: NANS continue protests, block Abuja Airport today.
By Samuel Ogunsona
The National Association Of Nigeria Students (NANS) is to block the highway leading to the Nnamdi Azikwe International Airport, Abuja and Kaduna Expressway today Wednesday.
The students movement is protesting the endless strike that has paralysed academic in Nigerian Higher institutions.
The strike is led by the Academics Staff Union of University (ASUU).
The protest which started on Monday in Lagos which led the students association to block Muritala Muhammed International airport, Ikeja.
The task force chairman of the association (NANS), Olumide Ojo, while speaking to journalists on Tuesday said they will be on ground on Wednesday in Abuja to continue their protest at the International Airport.
Ojo said, "We decided to use today (Tuesday) to appraise our protest on Monday at the Murtala Muhammed International Airport, Ikeja. By tomorrow (Wednesday) morning, we will be grounding the Nnamdi Azikwe Airport, Abuja and Kaduna-Abuja Expressway.
"We will also be at Iwo Road, Ibadan where we will hold a press conference. It will be a simultaneous action. On Thursday, our colleagues in the South-South and South East will mobilise for a showdown too."
According to the letter signed by NANS President, Usman Barambu, to other branches of the association across the 36 states in the country, the protest is to last till 11th of October 2022.
Barambu said in his statement that Nigeria students have over welcome the industrial action by ASUU and it is time for them to resume back to school.