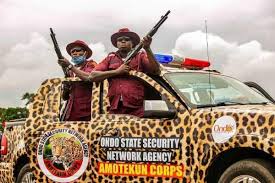 Armed kidnappers kill soldier, abduct contractor in Ondo State
No insurance cover- Amotekun operatives cry out
By Biola Abidakun
Armed men struck again in Ondo State on Wednesday. They killed a soldier, another middle aged man while an expatriate was abducted.
The incidence took place in Owo, the chief town in Owo Local Government Area of Ondo State.
The contractor said to be from the Middle East was kidnapped while a soldier attached to him and the driver of the contractor were killed.
Sources told Irohinoodua that the armed men shot into the air, causing a lot of confusion before taking away the contractor. When the dust settled, a soldier and a man lay dead.
"The soldier was armed. He fought back but he was overwhelmed.They killed the driver of the contractor too" a farmer in the area, Godwin Daisi told Irohinoodua.
The Owo axis is notorious for a string of kidnapping believed to be carried out by alien men who have occupied many ancestral forests in Ondo State and the South West.
Meanwhile, operatives of Amotekun have expressed deep concern over the inability of the South West States to insure them against death and injury.
"We are vulnerable. If any Amotekun dies, he dies in vain. There is no insurance cover for our members. The situation is the same across the South West States. We are neither insured nor assured. This reduces our motivation.Every member is careful not to be wounded or killed because our family will get nothing" one of the leaders of Amotekun in Ondo State told Irohinoodua. He does not want his name in print.
He said the Corps work under "very low morale and motivation" which he said affects optimum performance.
He said late last year, Amotekun members across the South West were delighted when they heard that Mutual Benefit Assurance, one of Africa's leading Nigerian owned Insurance Companies was about to insure Amotekun across the South West States but that as at May this year, nothing has been done.
"We heard that Mutual Benefit had submitted a proposal. We were all happy but nothing has been done. With N30,000 naira in a month, nobody wants to risk his life when there is no insurance for us" he said.
Amotekun members who spoke to our correspondent in Osun and Oyo States confirmed that non of them is insured against death or injury.
"It's so sad.How can you put us on deathline to face armed herdsmen and we are not insured. We are in Amotekun because there is no alternative not that we believe in doing the job" the Oyo official who does not wish to be named said.
Meanwhile, the spokesperson of Ondo State Police Command, Superintendent of Police, (SP) 'Funmilayo Odunlami in TV chat confirmed the kidnap.
She said the police were working hard to apprehend the criminals. Ondo State police is said to have made many arrests of criminals in the past with many of them taken to court.
"We trust Ondo Police. They are effective.Though they work under difficult position but they have been quite productive" Ajayi Aluko, a local teacher in Owo told Irohinoodua.