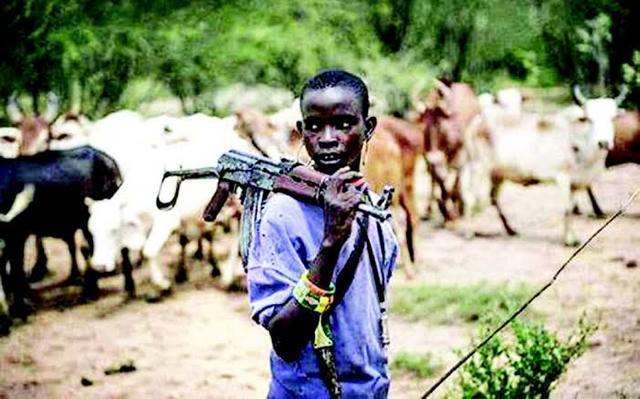 Armed Herdsmen killed 70 in Ogun commuity in the last 16 years, says Oba Akinyemi
By Saliu Idowu Lawal
No fewer than 70 indigenous people have been killed by armed Fulani in community in Ogun State in the past 16 years, the traditional ruler of Iseluland, Oba Akintunde Akinyemi has said.
He said the figure of deaths represent the number of people killed by the herdsmen in the following communities; Agbon, Asaa, Eselu and Ibeku.
Oba Akinyemi told the Punch's Daud Olatunji that the Fulani herdsmen were also responsible for the destruction of farms owned by indigenous people in the area.
He said 'For the past 16 years, I have been on the throne, no fewer than 70 people have been killed. There was a year they killed 32. That was in 2007. The Fulani attacked a church during a vigil and killed 32 people. As of that time former President Olusegun Obasanjo was the President and he set up a committee."
He said the problem of the community has been compounded by the anti-grazing law passed by the Lawmakers in Benin Republic.
Oba Akinyemi said his community has video and pictures of the victims of atrocities committed by the herdsmen. He said his domain is deepy concerned about the Nigerian Army that now send soldiers to accompany their cattle to graze illegally on lands belonging to locals. He said many of the armed herdsmen came from Mali.
"When the soldiers came, they did not know the border between Benin Republic and Nigeria. On the Benin Republic side, there were Gendam (security agents). When the soldiers came with the Fulani, they strayed into Benin Republic and there was exchange of fire between them and the Gendam. In the process, some of the Fulani got missing and they have not been found" Oba Akinyemi said.
He said the issue became problematic because the Benin Republic government passed a law that the Fulani should not graze their cattle in the country adding that  Benin Republic wrote letters to Nigeria's Ministry of Foreign Affairs and Ogun State Government that they don't want cattle to be grazing in their country.
He said the soldiers that accompanied the herdsmen bet up villagers and compelled them to allow cattle to graze on their farms."
He said the herdsmen would break the silos and give all the maize there to their cattle and tell the farmers they are willing to pay. "One of them even told me that giving maize to their cattle gives the animals carbohydrate. So intentionally, they break the silos and give their cattle maize"
He said "They visited Ibeku. They called the Baale to arrange his people. They visited Moro, they gathered people there and subsequently visited Asa area and the person they beat reported to the police. The scars he sustained are still there up till now. He opposed rearing of cattle by the Fulani on farm lands. Incidentally I was in the palace and the place we are talking about is a village in the jungle but it is in my area. They came and that is why we wrote a petition because there is nothing you can do to someone carrying a gun. That is why we wrote the petition and send it to the appropriate quarters." This piece was culled from the Punch interview published on Wednesday January 27, 2021