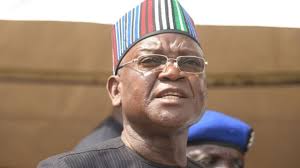 Armed attacks aimed at turning Nigeria to a Fulani country, says Benue Governor Ortum
By Biodun Adesina
The various armed attacks across the country is a conscious attempt to turn Nigeria into a Fulani country, the Benue State Governor, Samuel Ortum has said.
Ortum who spoke on TVC on Sunday in an interview anchored by Babajide Otitoju said the attacks are coordinated and perpetrated by Fulani from across Africa.
The interview was monitored by Irohinoodua.
He said " The Fulani are getting ready to take over Nigeria. The attacks are supported by Fulani from Mali, Libya, Senegal, Chad,Niger to take over our country to become a Fulani country." Ortum said.
He said since 2017, Benue State has lost close to 5000 people while some two million indigenous people are in Internally Displaced Camps, (IDPs).
On his trip to the United State, (US) he said he was there to correct the narrative that the crisis is informed by climate change. He lamented that a US official who came to Nigeria visited only Kano and Abuja without visiting the hotbed of horrendous killings by herdsmen.
Ortum said Benue State is estimated to have some seven million people out of which two million have been displaced.
On his instruction that his people should defend themselves he said he gave the instruction because he does not expect his people to be waiting daily for their own death.
He said " Self defence is the first law of nature. You cannot continue to wait for people to come and kill you. It is natural
There is no where in the scripture that says you cannot defend yourself.
I'm saying we cannot continue with impunity to continue in Nigeria."
He said further "What laws back Fulani to carry AK 47.? There is no government in Nigeria. I have asked my people to defend themselves.That is what we are doing."
He said the Ministry of Humanitarian Affairs have done nothing to elevated the sufferings of people in Benue State.
"What have they done to close to two million Benue people in IDPs in Benue State.? Out of seven million people in Benue we have about two million in IDPs. We have even been denied international support. The funds go to the North East. Even when the Vice President Yemi Osinbajo came to Benue State, he promised N2b would be made available but its a long time now, it has not happened."
He said it has not been easy to cope with IDPs.
"I don't pray that anyone will suffer what we are going through. Every day I talk about the killings. Gradually there is farming in the land. In those days, the civil servants also farm. The average farmer is coming to collect money for food and basic things on life from civil servants. I'm not happy living in this kind of the situation. Framers that used to produce 80 percent of farm produce are no longer there."
On the disagreement between the Rivers State Governor Nyeson Wike over the Peoples Democratic Party, (PDP) choice of its Vice Presidential candidate, Ortum said the party was unfair to his friend, Wike.
This is something I have been at the centre of it. I told my party they didn't do well especially about Wike.
He said Wike had remained in the PDP while others had shifted grounds.
He described Wike as the anchor person in PDP.
Someone us wanted him to be VP, he did not win. He should have been reached out to, that has not been done," Ortum said.
He said the good news he has is that Atiku and the party have agreed to reach out to Wike adding that it is not late.
"When you allow water to remain in your mouth for too long, it will become saliva We are looking at the larger interests of our party. Nigerians are distressed by bad governance."
Asked whether the PDP has any chance of winning the next Presidential election, he said "I'm a student of the bible. A man can receive nothing unless it is given to him from above." He said the winner of the 2023 election will be determined by who God choses.
"Nigerians are in distress. They are crying for justice. This Government is evil. Who will tell you in Nigeria that he or she is happy.? This government is evil. The downtrodden masses. The blood of those killed in Sokoto, Zamfara, Benue state, will cry. Over 5000 people have been killed in Benue state alone since 2017. A miracle can happen (in 2023),Ortum said.