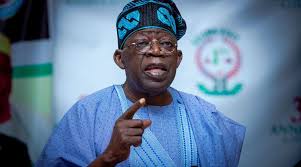 APC Primary: Tinubu set to win with over 60 percent votes
By Seth Akinola, Abuja
The National Leader of the All Progressives Congress, (APC) Asiwaju Bola Ahmed Tinubu will soon be announced as the winner of the Presidential primary holding in Abuja.
Already Tinubu, 68 has won 56 percent of the votes as at 1.20pm on Wednesday.
Irohinoodua correspondent who is at the venue of the event observed that Tinubu has already secured 1200 of the votes out of 2,234 delegates.
Though the ballots were not in order of state of aspirants, the random picking of the ballots by the returning office indicate that Asiwaju has secured majority of the votes count.
Our correspondent was informed that the former Lagos State Governor is already preparing his acceptance speech expected to be delivered after the announcement has been made.
" Asiwaju is already preparing his acceptance speech. We expect that soon. We expect the other aspirants to begin to congratulate him one after the other including the Vice President, Professor Yemi Osinbajo" one of the delegates from Bornu told our correspondent in Abuja. He sought anonymity.
Asiwaju will not have to pick a Vice Presidential candidate from either the North West or the North East.
Sources told Irohinoodua that the APC leadership had to stop the search for consensus when it was obvious they could not stop the machinery of Tinubu supported by the Kano State Governor, Abdullahi Ganduje and political leaders from across the country.
Asiwaju will not square up with Alhaji Atiku Abubakah who is the Peoples Democratic Party, (PDP) Presidential candidate. The Presidential election holds next year.
The National leader of the All Progressives Congress, Bola Tinubu, has obtained over 50 per cent of the total votes cast in the ongoing presidential primary 1149 votes after votes in 27th boxes were sorted.
His closest contenders, Rotimi Amaechi and Yemi Osinbajo, who got 238 and 177 votes respectively.
The winner is expected to be declared in a few hours.