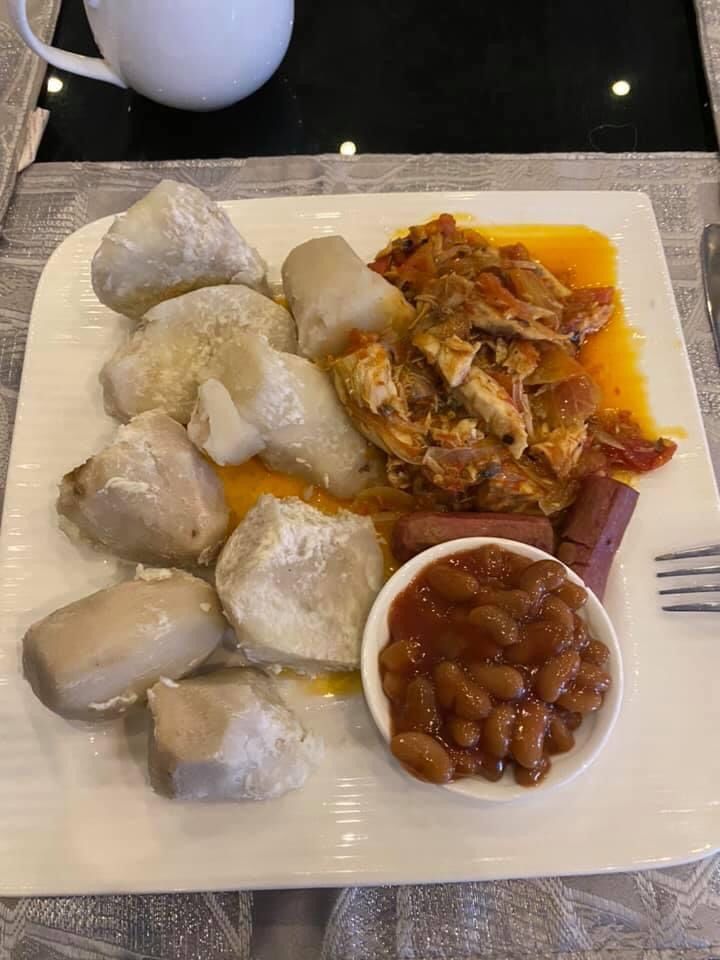 An unusual breakfast of Cocoyam and Red oil in Akure Five Star Hotel
By Babafemi Ojudu
Had an unusual meal for breakfast this morning. And at a 3 Star hotel in Akure , the capital of Ondo. When I asked what was available for breakfast they told me boiled or fried coco yam, bread and yam with fish or egg sauce.
I promptly asked for coco yam with fish sauce.
For years in Yoruba land coco yam , which botanical name is colocasia esculanta , has been maligned. Yet nutritionist claimed it is the most nutritious of all tubers be it yam , potato, or cassava.
Reason being that for centuries it was considered by our people the crop of the lazy and therefore the food of the poor. A big time farmer and an accomplished one at that is reputable for farming yam while the plebeian, the hoi poloi does coco yam which is largely fed to goats. When young and living with my grand parents they dare not see it with us. It is for the poor , they said. Beyond this they believe it causes jedi jedi. Jedi jedi " was described with various anal, abdominal and lower back manifestations which were believed to have a deleterious effect on a person's sexual performance." This is not supported by science.
The lesson of the menu at St Jacobs Hotel in Akure is that we should reach out to our local crops and dignify them not only in our homes but in our hotels. Coco yam grows in the wild and need not much effort to grow it neither does it need fertilizer. It is easily cultivated organic. The leaves are also nutritious and if cooked with dried of fresh fish make delicious soup. I was had a satisfying meal of it in Ghana.
The more we offer what is ours the more people will come to our shores to have a feel of what our culture presents. Let our food be as unique as we are as a people. When next I am back in Akure I hope St. Jacobs will serve me Pounded Yam with Rorowo Soup garnished with eja gbigbe taken from the waters of Ilaje- Ese Odo and not the frozen stuff from the waters of Europe or Asia.
In my travels around the world the dignity they confer on what nature offers them as food in their environment amazes me while we hunger for food from other lands and keep crying that they are expensive.
Today we eat more noodles and spaghetti than most Asian nations where it originated. We yearly spent billion of dollars importing wheat to make bread and cake.
We perhaps consume more loaves than nations of Europe.
Let us reach out to our inner self and draw from the wealth around us for our survival and stop thinking if it does not come from Europe, Asia or America it is not good.
Petro dollar is drying up. Let us look at alternatives oat meal. Let improve on our local production of corn flakes. If we can't grow apple here what is the local alternative? All of those exotic fruits we import from other lands we should explore the possibilities of growing here or find alternatives to.
It is when we begin to do all of this we shall conserve the little foreign exchange earned for the most important task of buying the technologies for building our nation. It is then we will move and take the giant leap from being a consumer nation to a nation that produces and export her surpluses to other countries.
Kudos to St Jacobs's Hotel for this and by the way let me me commend the cleanliness and of the hotel and the friendliness of the staffers. It is a decent place to stay whenever you are in Akure. Quite unusual.