Amotekun, groups intercept herdsmen truckload of weapons in Ekiti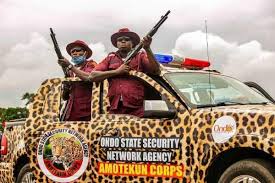 By Posi Ahmed
Scores of armed herdsmen were today intercepted in Ikere-Ekiti located in Ekiti State
The invaders had weapons, shotguns, attack knives and daggers hidden under huge dry grass in a truck
Amotekun and some Pan Yoruba group operatives first sighted the truck which was flagged down.
Operatives of Amotekun said signal was received from community dwellers some one hour before the truck arrived in Ekiti. He said his vigilant officials acted promptly by arresting the vehicle.
"There is no doubt they are out for mischievous activities" He said
"Based on intelligence reports, we intercepted the truck which was coming from Ondo State. Inside the truck were several dangerous weapons concealed in huge dry grass in the vehicle" Bolanle Akinteye who is the leader of Apapo Oodua Koya, (AOKOYA) in Ikere Ekiti told journalists in the town.
He said for the past months, Ekiti people have been mobilised to watch for strange movements. According to him, kidnappers usually pass through the Ikere hills which leads to Edo State when ever they abduct anyone.
Amotekun operatives in the town who does not wish to be named said his men accosted the truch based on "credible intelligence."
He said the men were all Fulani but that their mission was unknown.
"They could not give any concrete reason for their presence in the area. They are suspects. They are about 15 with lots of weapons" the operative said.