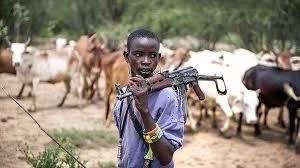 Amotekun, Groups Intercept Herdsmen Truckload of Weapons In Ekiti
By Posi Ahmed
Scores of armed herdsmen were today intercepted in Ikere-Ekiti located in Ekiti State
The invaders had weapons, shotguns, attack knives and daggers hidden under huge dry grass in a truck
Amotekun and some Pan Yoruba group operatives first sighted the truck which was flagged down.
Operatives of Amotekun said signal was received from community dwellers some one hour before the truck arrived in Ekiti. He said his vigilant officials acted promptly by arresting the vehicle.
"There is no doubt they are out for mischievous activities" He said
"Based on intelligence reports, we intercepted the truck which was coming from Ondo State. Inside the truck were several dangerous weapons concealed in huge dry grass in the vehicle" Bolanle Akinteye who is the leader of Apapo Oodua Koya, (AOKOYA) in Ikere Ekiti told journalists in the town.
He said for the past months, Ekiti people have been mobilised to watch for strange movements. According to him, kidnappers usually pass through the Ikere hills which leads to Edo State when ever they abduct anyone.
Amotekun operatives in the town who does not wish to be named said his men accosted the truch based on "credible intelligence."
He said the men were all Fulani but that their mission was unknown.
"They could not give any concrete reason for their presence in the area. They are suspects. We have handed them over to the police after interogation" he said
News
VIDEO: Amotekun intercepts two truckloads of Fulani herdsmen hidden under grass sheets with arms in Ekiti
By
Agency Reporter
–
June 8, 2022
Men of Ekiti State Security Network Agency known as Amotekun and Oodua Peoples Congress (OPC) have intercepted two trucks loaded with no fewer than 15 men suspected to be Fulani herdsmen in Ikere Ekiti, Ekiti State.
The men, who were loaded in two trucks were reportedly stopped along Ado Ekiti road in the town by the Amotekun corps and OPC and a quick search revealed some bows, arrows and daggers in the vehicle.
Sources told our correspondent that there were suspected Herdsmen hidden under grass sheets in the truck.
Upon interrogation, the men were reported to have told the Amotekun operatives that they were going from Ondo state to Ado Ekiti, the Ekiti State Capital.
The search was said to have attracted residents who trooped to the scene, but to avoid crisis, the security agents were said to have led the trucks and its occupants to the police station.
They were said to have been handed over to the police at the station for further interrogation and search.
Recall that at least 22 persons have been confirmed dead following the attack on St. Francis Catholic Church in Owo, Ondo state.
The church was attacked by gunmen on Sunday, with several persons killed and others injured.
The incident has elicited public sympathy nationally and internationally.
Watch the video here:
1. Amotekun intercepts two truckloads of Fulani herdsmen hidden under grass sheets with arms in Ekiti