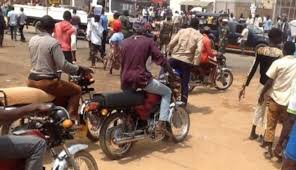 Allow us to operate Okada in Lagos, Hausa community leaders plead with Sanwo Olu
By Samuel Ogunsona
Leaders of Hausa community in Lagos have pleaded with the Lagos State Governor, Babajide Sanwo Olu to allow them operate their commercial motorcycles in Lagos.
The State Government had banned Okada in six Council areas, namely Eti-Osa, Ikeja, Surulere, Lagos Island, Lagos Mainland and Apapa.
But the Hausa community leaders said the ban will affect many of their members whose livelihood is tied to Okada
Sanwo-Olu had imposed the ban following the gruesom murder of David,a Sound Engineer murdered in the most gruesom e manner by Okada Riders in Lekki area of Lagos.
The incidence sparked outrage with residents calling on the government to ban the operators.
Lagos is notorious for not having the political will to ban operators of the primitive transport system that continue to cut short human lives including that of women women children.
Thousands of Lagosians are maimed or killed every year in accidents linked to Okada amidst another rising variety of commercial motorcycles operating as despatch Riders.
Sanwo Olu had said "We will not sit back and watch criminally-minded people use that mode of transportation (motorcycles) to perpetrate crimes and criminality in Lagos. Lives are being lost on a daily basis, preventable accidents are happening every day and the riders are not respecting any of our traffic laws.
He said "The situation has led to a complete breakdown of law and order. This ban has come to stay and we will not tolerate any weakness in enforcement."
However, Seriki of Obalende, Saliu Waziri, told The PUNCH that the government should rethink its decision.
Waziri said, "This issue has taken us a long time and we have been trying to put our members on the line. I want to advise the government to rethink its decision because Lagos can't operate without bikes because of traffic. Government should register Okada riders in each local government to know those working in any local government. By so doing, the government would know who to pick when any issue arises.
He said further "Some of our members stay here in Lagos and vote during elections. That should count for something because we contribute to votes during elections. The government should change the system of Okada riders not stopping them."
Waziri, however, ruled out the possibility of taking any legal action against the state government.
The Seriki Hausa of Ajah, Ibrahim Ngoma also said
"Truth be told, Governor Sanwo-Olu has been understanding with Okada people unlike Governor (Babatunde) Fashola. Okada members should obey the law while I appeal to Governor Sanwo-Olu to look into the matter and lift the ban before the election because the ban is affecting my people," he said.
Also, another leader of the Hausa community in Lagos, Iliyasu Kira, in a telephone interview with The PUNCH on Wednesday, pleaded with Governor Babajide Sanwo-Olu, to reverse the ban.