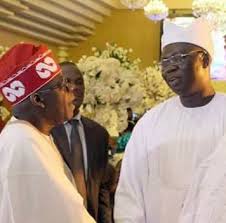 Aare Gani Adams praises Tinubu's victory
By Samuel Ogunsona
Aare Ona Kakanfo of Yorubaland, Iba Gani Adams has praised the emergence of the All Progressives Congress, (APC) candidate Asiwaju Ahmed Bola Tinubu as the President Elect of Nigeria.
In a statement made available to Irohinoodua, Gani Adams described Tinubu's victory as deserved.
He described his election as a reflection of his consistency and determination in the field of Nigerian Politics.
He urged him to remain committed and to fulfil his promise to the people by serving and hearing their voices in a reflection of the principles of democracy.
Asiwaju Bola Ahmed Tinubu won the keenly contested poll with over 8 million votes to beat his rivals, Atiku Abubakar of the Peoples Democratic Party, (PDP) and the Labour Party, (LP) candidate, Mr Peter Obi.
Independent National Electorial Commission (INEC) had announced and declared in the morning on Wednesday March 1st 2023 the 70-year old candidate who also a former governor of Nigeria's Economic Hub, Lagos.
Tinubu scored 8,794,726 votes, ahead of other candidates like Atiku Abubakar of the People Democratic Party, Peter Obi of the Labour Party and Rabiu Kwankwaso of the New Nigeria Peoples Party.
Gani Adams said "I congratulate Asiwaju Bola Ahmed Tinubu on his victory. His victory was not unexpected. It is well-deserved because he has been consistent as a frontline politician that had fought tirelessly for the enthronement of this democracy.
He said Tinubu had fought a long battle ahead of this victory. While wishing him all the best in his new political adventure, it is my view also that Asiwaju should remember that it is his duty as the next President of Nigeria to fulfill the democratic vision of this country; the vision that is based on peace, unity, justice, and tolerance among others.