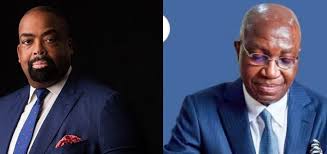 Yoruba lawyers back Olanipekun, alleges ethnic plot
By Mufu Olawale
Yoruba lawyers, Egbe Amofin O'odua have expressed solidarity with Chairman of the Body of Benchers (BoB), Chief Wole Olanipekun SAN.
The group alleges high level conspiracy to bring down Olanipekun by a self serving bloc.
In a statement by Egbe Amofin signed by its Chairman, Governing Council, Mr. Isiaka Abiola Olagunju SAN, the Yoruba Lawyers Forum said there were plans by some vested ethnic interested to bring down Olanipekun.
The group described as "unwarranted" calls that Olanipekun should quit his position.
Egbe Amofin said there is "the apparent underlining witch hunt and delibrate attempt to smear the name of Chief Wole Olanipekun, SAN by subjecting him to a calculated public opinion trial."
There is the belief that Olanipekun is a victim of organised conspiracy by some political vested interests using various characters to push a hidden agenda.
Egbe Amofin said "the agitation to subvert the established and settled procedure for the elevation to the Chairman of the Body of Benchers which favoured Chief Wole Olanipekun, SAN was attempted by some senior lawyers."
The group said "but for the principled, objective and pure professional stand taken by some prominent Lawyers and respected Justices on this issue, we would have been tempted to believe that the initial opposition to Chief Wole Olanipekun, SAN becoming the Chairman of the Body of Benchers and this unjustified call for him to step down as the Chairman of the Body of Benchers is an ethnic agenda."
It condemned calls that Olanipekun should quit "for the alleged misconduct of another in the face of the provisions of Sections 2 (1) and 24 of the Legal Practitioners Act which had been interpreted to draw a distinction between a law firm and the individual Legal Practitioner making up the law firm?"
The group said the organisation is"an independent standing Committee whose Chairman and members had been appointed before Chief Wole Olanipekun, SAN became the Chairman of the Body of Benchers."
It said further that it "is now subjudice and should not be subjected to further public commentary."
It warned "The Legal Practitioners Disciplinary Committee should be allowed to do its job."
Egbe Amofin said "Those trying to pull down Chief Wole Olanipekun, SAN should realize that in reality, they are casting serious aspersions on the Legal Practitioners' Disciplinary Committee by sending a wrong signal that the Committee cannot be trusted to take fair, independent and honest decisions or directions on disciplinary matters that come before it. This is no doubt a vote of no confidence on the membership of the committee."