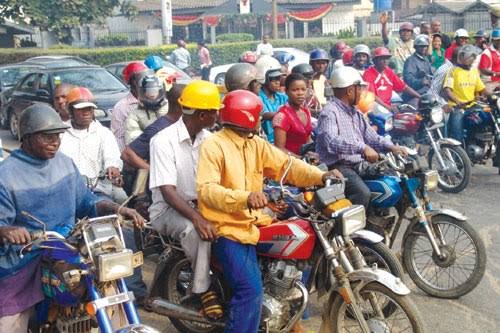 480 guns siezed from Okada riders in Lagos as Sanwo-Olu places ban
By Samuel Ogunsona
The Lagos police have seized no fewer than 480 guns from Okada riders in the state, police authorities have said.
Many residents have expressed worry about the growing security challenges associated with Okada.
The Commissioner of Police, Mr Hakeem Odumosu, said between January and early May, 320 Okada riders were apprehended all connected with 218 cases of criminal cases.
Almost all the 19 Northern and South East states have banned in their state capitals making the South West the dumping ground for millions of Okada riders in Nigeria
Amotekun top shot in Oyo State Kunle Togun, a retired military officer had said many Okada riders in his state spy for terrorists.
Odumosu on Friday said 480 guns were seized from the Okada riders while 78 people were arrested.
The Lagos State Government is making plans to ban Okada which has constituted a menace on Lagos metropolis with many of them linked to violent crimes across the State.
Odumosu also said Okada accounted for 83 per cent of 385 cases of avoidable road related deaths in Lagos.
Odumosu said "The menace of okada operators does not end with avoidable accidents. Crime reports from the field have shown that a greater percentage of crimes ranging from armed robbery, cultism, kidnapping, murder, burglary and stealing to traffic robbery, carjacking and cash snatching from bank customers are attributable to hoodlums who operate on okada.
"The nuisance constituted by the okada operators on Lagos roads has become a danger to law-abiding citizens. Sections of the Lagos populace have come to regard commercial motorcycles as a necessary evil. It has become imperative for the government to take more drastic measures against their notoriety.
"The state police command strongly advises the state government to immediately review the current guidelines guiding the operation of okada as a means of commercial transportation in the state and take decisive legal and administrative steps and policies that will curb their traffic, criminal and other nefarious activities in the state."
Sources from Lagos State Traffic Management Authority (LASTMA) related that some 619 people were killed or injured between 2015 and 2016.