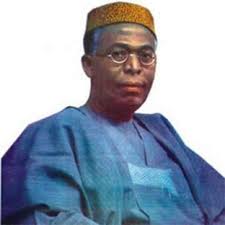 2023: Why It's unwise for Yoruba to boycott elections
By Alagba Rotimi Adeyeye
Yoruba cannot afford to boycott any election in Nigeria. Whoever say Yoruba should boycott election have no sense of history. In 1964, Yoruba Nation and Igbo Nation agreed to boycott election. At that time, Chief Awolowo the Yoruba political leader and his team were already jailed for 10years, just 2years after Independence. Yoruba was presumably under the leadership of Chief Akintola who agreed with IgboNation leadership to boycott election. With sincere heart, Chief Akintola went ahead to convince the venerable Yoruba electorate to boycott election. Yoruba boycott that election. Bualas, at rhe eve of the election, the IgboNation went ahead to vote in the election they have previously agreed to boycott as a Southern bloc. Yoruba Nation has zero vote in the election. But the HausaFulani had the majority vote. That election result was binding on Yoruba Nation at the time.
The disagreement between Bello and Azikiwe that made Azikiwe convinced Akintola agreeing to Yoruba and Igbo election boycott resurface again. Bello was not ready to change position with Azikiwe. That is Azikiwe becoming Prime Minister and Ahmadu Bello becoming Ceremonial President. Therefore Azikiwe had to reach agreement with the Igbo Military hierarchy to organise a Coup. This was what gives birth to the Jan 16th 1966 Coup and the introduction of Unitary Feudalistic Government System. Bello and the aggrieved Akintola over the election boycott betrayed never survived the Coup massacre. Azikiwe came out clean. The rest is history.
Therefore, it will be an unwise and unreasonable decision for Yoruba to agree to any election boycott with any Nation or by herself in Nigeria today. Only fools get raped twice. Not to talk of the serial rapes YorubaNation had suffered in the hands of their guests as rewards for their kind gesture of being magnanimous host.
*Bob Marley said: "in defining or determining your future, you don't forget your past". No wise or successful business man invest in a business resulting in his misfortune three times. You cannot continue to invest your money in a business that has consistently been failing you for 62years and hope for positive results. I am yet to read any contrary view in Corporate history.
*Rethink Nigeria.
*©️ Alagba Rotimi Adeyeye*