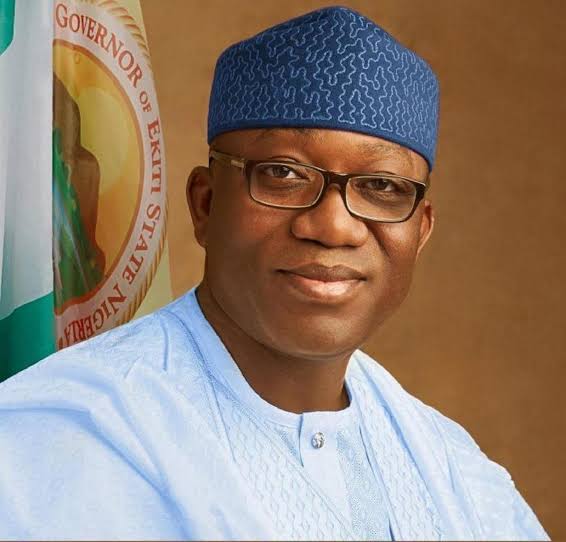 2023: Ekiti Afenifere says Fayemi qualify to lead Nigeria to greatness
Samuel Fadahunsi
The Governor of Ekiti State Dr Kayode Fayemi is competent to lead Nigeria and transform the country's economic and political fortunes, Afenifere Renewal Group, (ARG) in Ekiti State has said.
The group said Fayemi experience as a development expert in several countries in Africa and Europe place him as the best to lead Nigeria to greatness in 2023. He said he is young, vibrant, cerebral and has global network that will draw greater international support for the country's strive towards greatness.
The Publicity Secretary of the Afenifere Renewal Group, (ARG) Hon, Prince Michael Ogungbemi,  declared that Fayemi has the requisite qualifications and competence to lead Nigeria to a greater height if elected President. He said Fayemi's background in human rights advocacy and his reputation for being incorruptible will drive greater local and international confidence in his leadership
The ARG Publicist described Fayemi as one of the few egggeads within the All Progressives Congress enclave in the Southwest , who can be trusted with power, having exhibited his mettle trice as a state governor, federal minister and Chairman of the Nigeria's governor' Forum.
Prince Ogungbemi, the Chairman of Ajoni Local Councl development Area, said these on Sunday during a chat with newsmen at his Iyemero Ekiti country home.
The ARG leader said without scintilla of doubt, that Governor Fayemi had garnered enough of cognate experiences in politics to lead Nigerians to greater height of development, prosperity and enviable standard that can usher in all-round transformation that would benefit every citizen, regardless of status .
Ogungbemi exuded confidence in the Ekiti governor's competence, capability, capacity and strong character to lead the country and unite all ethnic groups in such a fashion that can guarantee unity of purpose to be able to defeat all adversaries.
Ogungbemi said: "As a seasoned and respectable professional, administrator and technocrat in Nigeria and across the world, Dr Fayemi will elevate to a national status his magical "Rescue Mission" he brought to Ekiti in 2010 that had radicalised the land and rejig the economic, political, and social systems in an enigmatic fashion.
"Dr Fayemi an Historian, Political Scientist and War Expert specializing in Civil-Military Relations-An indicator which shows he has the requisite knowledge, sound understanding and well informed".
Tracing Governor Fayemi scholarly contributions to national and global growth, Prince Ogungbemi said: "Some of his research and policy interests include: Democratization, Constitutionalism, Security sector Governance and Regionalism in the global context-An indicator that he had gone through the right democratic tutelage".
Saluting the governor's belief in the ethos of Omoluabi, Ogungbemi strongly believes in the long standing, cherished values and virtues of hard Work, Honesty and Personal Integrity.
"With the presidential ticket oscillating to the Southwest in 2023, Ekiti from the Old Ondo Province will produce the NEXT NIGERIAN PRESIDENT and JKF has the advantage of age on his side, Christian background and a liberal Nigerian leader
"Added to these is the fact that he is an International scholar, respectable researcher, thorough -bred and well respected Nigerian politician with a workable document' for the development of Nigeria, known as "Development Agenda for Progressive Nigeria".
Prince Ogungbemi noted that nigeria was in dire need of a young, credible, vibrant, knowledgeable and energetic democratic leader like Dr Fayemi with impressive and sound political and democratic credentials, to provide leadership direction to usher the country into prosperity in 2023.
The ARG spokeperson added that he firmly testified, without fear of contradiction, hesitation or equivocation, that his personal assessment of Dr Fayemi, was sincere, genuine and remain undisputable.