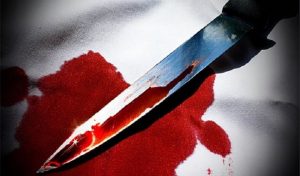 19 year old kills husband in Katsina
By Samson Orji
A 19 year old lady has stabbed to death her husband in Katsina, the Northern Nigerian city and capital of Katsina State. Rabi Shamsudeen woke up around 4am to stab her husband several times leading to his death. The incidence took place on Monday, Irohinoodua was told.
The Police Spokesperson for the Katsina Command, Superintendent of Police, (SP) Gambo Isah confirmed the incidence saying that the 25 year old husband was killed by his wife/.
Neigbours heard Shamsudeen cried in the early hours after he was stabbed but efforts to break into his apartment for assistance initially failed until they scaled the fence into the apartment. Howerver, rescure efforts came late as she had already killed his husband.
"When the neigbours antered the building, Shamsudeen was holding on to his stomach while Rabi was seen holding a bloodstained knife in her hand. Shamsudeen died before reaching hospital. Rabi is in custody while investigation on the incident has already begun', the police spokesperson said.